You take great care to make sure that your child has only the healthiest foods for her lunch and snack.  But what about the lunch box and containers that you put that food in?  It is important to choose food storage containers that are made of safe materials, are good quality and don't cost a fortune.  You can find good options for the lunch box/bag, food containers, sandwich bags, bottles, napkins, utensils and straws.  Check out this list of greener lunch boxes and accessories.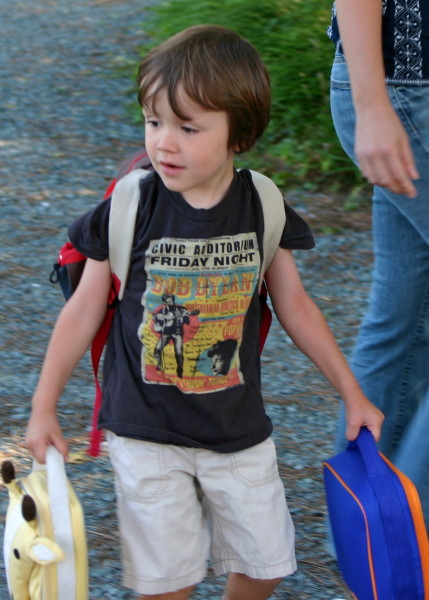 Materials
When choosing containers for storing food, you want to pick ones made from the safest materials so that toxins do not leach into your child's food.  Toxins such as BPA, lead, cadmium, phthalates and VOCs are just some of the dangerous chemicals that can be found in materials such as some plastics.  For more information about the dangers of toxins leaching from plastic food packaging, visit Healthy Child Healthy World.  You can read more about lead and cadmium in children's products here.
If your most important consideration is choosing a safe material, your best options are lunch bags made from 100% cotton or hemp and lunch containers made from stainless steel, glass or silicone.  Complete kits are available from ECOlunchbox, Kids Konserve, To-Go Ware and PlanetBox.
The problem with using materials like cotton and stainless steel is that they don't have the same insulating properties that something like neoprene would have.  You can use ice packs in a cotton bag but it probably would not hold the temperature very well.  The most common alternatives are neoprene and plastics.  Unfortunately, these synthetic materials often have a whole host of toxic chemicals.  You can find safer options but make sure they are free from BPA, PVC, lead and phthalates.  See this list of greener lunch boxes and accessories.
Quality
Another consideration when choosing a lunch box and accessories is quality.  When you choose a product that is well-made and constructed of quality materials, it is more likely to last longer.  You are doing the environment and your wallet a favor when you don't have to keep buying new lunch boxes.  A stainless steel or glass container is much more likely to last through hundreds of washings than a plastic one.
Cost
Lunch boxes and kits can vary widely in price. But spending a little extra money to buy a quality product can actually save you money in the long term.  You may also find it worth it to spend a little bit more for safer materials.
Kits tend to be expensive so you can try to save money by putting together your own kit.  This also gives you the ability to pick and choose which box/bag and food containers that you want.
What My Son Uses
More green lunch boxes, bags & kits, sandwich bags, food containers and accessories.
This post contains affiliate links. If you buy something after clicking one of these links, we receive a small commission (at no cost to you). Help support One Part Sunshine and our mission to reduce toxins in your child's environment by purchasing all of your Amazon products through our affiliate links!
Want more One Part Sunshine?  Here's how: