I am a big fan of paying a little bit more to purchase quality items that will last.  So when I heard the latest news about the dangerous toxins in children's jewelry, it only affirmed my belief that everyone should stop buying junk costume jewelry from China for their kids.
By now, most of you have heard about high levels of lead found in children's jewelry, particularly cheap costume jewelry made in China.  Lead poisoning is extremely harmful and sometimes fatal, and tons of toys were being recalled due to excessive amounts of lead.  So our government passed the Consumer Product Safety Improvement Act of 2008 to regulate the amount of lead in children's toys and jewelry.
The hope was that toy manufacturers would start using safer alternatives to lead, such as zinc.  But instead, some manufacturers (particularly in China) began using the more dangerous, cadmium, as well as other highly toxic metals.  Cadmium is known to cause cancer and hinder brain development in young children.  All a kid needs to do is suck on or bite a piece of jewelry to be exposed to the dangerous properties of these toxins.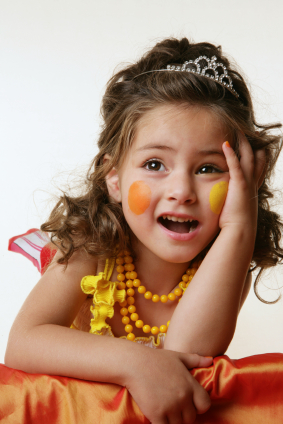 An Associated Press investigation led to the testing of 103 pieces of cheap children's jewelry on sale in the U.S.  Of the items tested, 12 of them had at least 10% cadmium by weight.  Charms on a "Best Friends" bracelet had 91% cadmium by weight.  Other pieces had 80% cadmium.
According to reports, Chinese manufacturers have been using cadmium in children's jewelry for years.  Furthermore, no laws prohibit the use of cadmium in kids' toys or jewelry in the U.S.  In response to this, a number of Senators introduced the Safe Kids' Jewelry Act, which will ban cadmium in children's jewelry.  But for now, the Consumer Product Safety Commission has issued at least one voluntary recall of jewelry with high levels of cadmium.
What you can do to protect your children:
Get rid of cheap costume jewelry in your home.  Cadmium and other toxins can be found in metals, solder, glazes, paints and other coatings.  Toxic chemicals may also be used to process pearls and gemstones.  Rather than trying to pick and choose which pieces to throw out, take a better safe than sorry approach and toss everything.  Better yet, recycle it by finding a place that accepts heavy metals.
Stop buying cheap children's jewelry.  Instead, purchase fewer quality items.  They will be more meaningful and last longer.  And if consumers stop buying this junk, then manufacturers will stop making it.
Try to purchase children's toys and jewelry made in the U.S. – we have stricter standards here and you will be supporting local businesses.  If anyone knows of any great U.S. manufacturers of kids' jewelry, please comment below.
Check the Consumer Product Safety Commission's website for a list of children's jewelry that has been recalled due to excessive amounts of lead or cadmium.
If your child is under 3 or still likes to put things in her mouth, don't buy anything that has small pieces that she can choke on or that has sharp edges that could cause internal tears if swallowed.
Don't buy necklaces that are too strong to break if they get caught on something.  Children can choke if a necklace gets caught when going down a slide for example.
If you buy metal jewelry, choose pieces made from sterling silver, solid gold, stainless steel or titanium.
Consider alternatives to metal jewelry such as acrylic, silicone or natural materials such as cotton, hemp, silk or linen.  Try string made from twine, yarn, string or thread.  Try beads and accents made from wood, shells or stones.  Check out Smart Mom Jewelry for safe silicone jewelry for tweens.
For non-toxic, kid-safe jewelry options, check out our Pinterest board!
UPDATE
Even after the passage of the Consumer Product Safety Improvement Act, some companies continue to sell children's jewelry with illegal amounts of lead.  Over the past two years, the Center for Environment Health has been testing jewelry from stores that agreed to eliminate their use of lead in children's jewelry.  During that time, they have discovered more than 70 pieces of jewelry that have amounts of lead that exceed the legal limit.  The most common part of jewelry to contain lead is the lobster claw clasp.
In July 2010, a recall was announced of 19 styles of children's jewelry sold at Justice and Limited Too retail stores for excessive amounts of cadmium.  I repeat my previous statement – don't buy cheap jewelry made from unknown materials!
Want more One Part Sunshine?  Here's how: