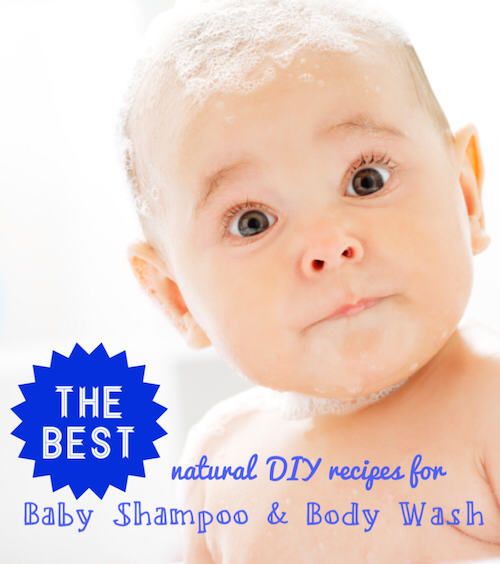 This post may contain affiliate links.
I have been alternating between California Baby Bubble Bath and Dr. Bronner's Castile Soap for cleaning my baby's hair and skin. And I just ran out of both! So I decided to try to go the homemade route this time rather than buying more.
It's important to choose safe and natural products when cleaning your baby. Most conventional baby care products are full of toxic chemicals that can cause skin irritation, asthma and even cancer. Babies are most at risk because their bodies are still developing. For more on this, read our article on What to Avoid in Personal Care Products.
The easiest way to know what you are putting on your baby's skin is to make these products yourself using natural ingredients. Making personal care products from scratch is definitely trial and error. I have compiled a list of the best recipes that I have found that use only natural ingredients.
Baby Shampoo
Most of the DIY recipes out there for baby shampoo involve using Dr. Bronner's Castile Soap. And for good reason – it's a fantastic product and has a ton of different uses. Although you may be wondering why you couldn't just use Dr. Bronner's on its own without adding anything to it. The answer is that you absolutely can, and I usually do. But sometimes it's nice to add something extra to leave baby's hair a little softer and smelling a little nicer. One note, it is not a tear-free shampoo (a lot of chemicals go into making that happen) so it does sting if it gets into little eyes. Just be a little more careful when washing baby's hair.
Here are some DIY recipes for baby shampoo:
1. Naturally Mindful uses a mixture of castile soap, herbal infused oil and essential oil.
2. The Free People Blog uses a recipe that includes a softening mixture of castile soap, coconut milk, coconut oil and vitamin E oil.
3. Thank Your Body has a nice DIY using castile soap, avocado oil, glycerin and essential oils (I would avoid the tea tree and peppermint for little ones because they can sting if they get in your eyes).
4. What about when you have no time to wash your baby? Let's face it, this happens a lot (at least to me)! Try dry shampoo. This recipe from BabyCenter uses natural cornstarch, baking soda, cornmeal and oatmeal.
Baby Body Wash
Usually you can use the same product for baby's hair and skin. The biggest difference is that body wash usually has more oil in it for softening skin. You wouldn't want that much oil in your shampoo because it can weigh hair down and make it look greasy. So any of the above DIYs can be used as a body wash as well or you can add a tablespoon or two of jojoba, olive or sweet almond oil to make it more skin-friendly.
1. This foaming baby wash recipe from The Eco-Friendly Family is a simple combination of water, castile soap and coconut oil.
2. Inhabitots has a great baby shampoo/body wash combo that includes aloe vera gel, jojoba oil, witch hazel, castile soap and essential oil.
Baby Hair Detangler
Most babies don't need conditioner. But if your little one has curly hair like my daughter does, you might want to use a leave-in detangler. Try my recipe for a natural leave-in conditioner for kids.
Also, remember that some natural ingredients may need to be stored in the refrigerator, especially if you are using water.
For more DIY Baby Body Care inspiration, visit my Pinterest board.