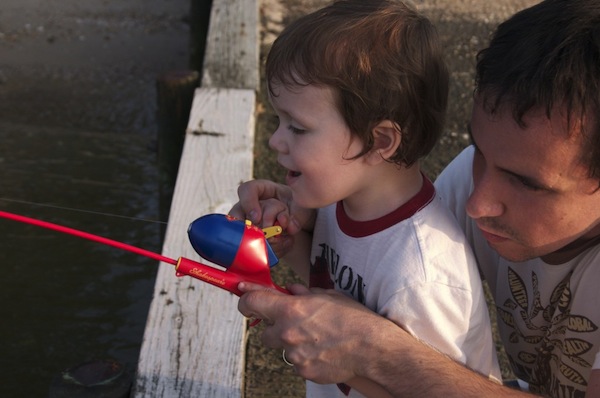 This post contains affiliate links.
My husband loves to fish.  Even if he doesn't catch anything (which he rarely does), he loves being outdoors in quiet nature.  So naturally, with Father's Day approaching, new fishing equipment came to mind as the perfect gift for him.  Little did I know that purchasing this equipment would ultimately result in the pollution of our lakes and rivers and the death of waterfowl.
I visited several big sports stores such as Dick's and Gander Mountain Sports as well as a few smaller local stores.  At each store, the result was the same.  All of the lures, baits, rigs, jigs and hooks had a big fat lead warning on them.  It was that same scary sounding warning about birth defects that can be found on most garden equipment.  I was amazed because these products are intended to be used in our water.  The same water that we drink.  And the use of lead fishing tackle has been linked to the deaths of waterfowl after ingestion.
Although a few states have made it illegal to use lead tackle in fresh water (including New Hampshire, Maine, Massachusetts, New York, Vermont, Washington, Connecticut, all of Canada, and the National Park Service), most states have not wised up to this concept.  Efforts to ban lead fishing equipment on a national level have been thwarted by fishing associations arguing that non-lead alternatives cost too much.
Fortunately, alternatives do exist in the form of materials such as tin, tungsten, bismuth, brass and even biodegradable materials.  And although they might be a little more expensive, our water quality (and fish quality if you intend to eat what you catch) is well worth the money.  Here are some great options:
You can also check out this list of manufacturers and suppliers of lead-free tackle.  If you are looking for a complete kit for a new fisherman or for a dad ready to make the switch to non-toxic fishing gear, S.A.F.E. Angling Kits are "ready to fish" kits full of everything you or the dad in your life needs for eco-friendly fishing.