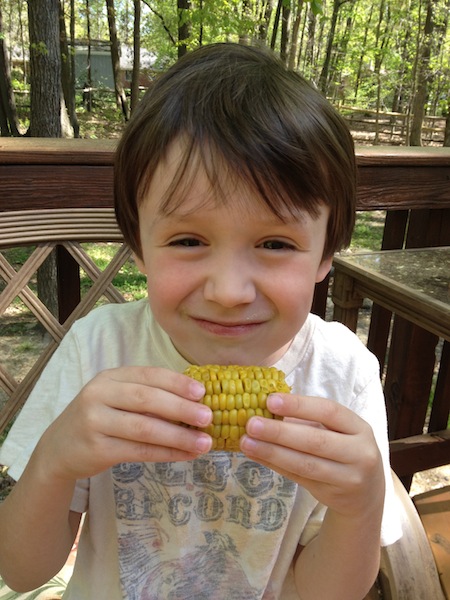 I'm lucky.  My son is a vegetable lover.  He will happily munch on fresh cherry tomatoes or red bell peppers.  And his lunch of choice is a fresh spinach salad with herb vinaigrette.
I credit this mostly to the fact that we introduced a lot of vegetables into his diet from the time he started eating solid foods.  I also made most of his baby food from scratch.  Homemade baby food tastes more like the food that it came from as opposed to most store-bought baby foods which usually taste nothing like real food.  So his tiny taste buds quickly learned to distinguish between a freshly baked sweet potato and a ripe avocado.
Monster also learned to appreciate fresh vegetables by helping me in our garden.  We started out with three 4 by 8 foot raised beds in the backyard of our townhouse and have graduated to a massive 40 foot by 80 foot cornucopia of produce.  He loves to pick fresh snap peas and broccoli florets and pop them into his mouth straight from the plant.  I love to see his face when he discovers that the tiny seeds he planted have transformed into towering sunflowers or trailing cucumber vines.
But like most children, there are times when Monster doesn't eat enough vegetables.  So I have gotten into the habit of adding veggies into other foods whenever I can.  I do it for myself and my husband as much as I do it for my son.
Some experts argue (and I tend to agree) that you shouldn't "sneak" vegetables.  Children should learn to appreciate a carrot for what it is and not forever associate it with carrot cake.  We want our kids to develop a love for produce so that it doesn't have to be a fight to get them to eat it.  With that said, I don't believe there is such a thing as too many vegetables.  Why not supplement regular foods?  I would rather my kid eat a super-charged carrot pancake.
So sneak those veggies in but serve your super foods next to some whole fresh veggies.  Here are some of my favorite ways of sneaking veggies into regular foods:
Pancakes with added baked sweet potato, shredded carrot, shredded zucchini, or pumpkin puree
Pizza topped with finely chopped spinach, finely chopped sautéed onions, finely chopped bell pepper, or julienned mushrooms
Pizza sauce pureed with spinach, onions, bell peppers, mushrooms, or carrots
Spaghetti sauce pureed with spinach, onions, bell peppers, mushrooms, or carrots
"Green" scrambled eggs with pureed spinach (add a little water during pureeing)
Pumpkin or sweet potato milkshakes
Smoothies blended with carrot juice, pureed pumpkin, or shredded chard, spinach or kale (we call these Shrek smoothies)
Muffins baked with shredded carrot, baked sweet potato, pumpkin puree, or shredded zucchini
If you have any other ideas, please share them in the comments section below!