The two biggest things that I look for when choosing a laundry detergent is that it is non-toxic and packaged without plastic.  Happily, Seventh Generation has a product that meets both of my requirements – their Free & Clear Natural Powdered Laundry Detergent.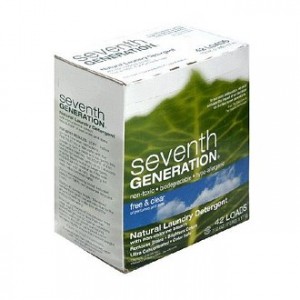 I pretty much love everything Seventh Generation.  And their powdered laundry detergent is no exception.  When my son was born, I started using their Natural Baby Laundry Liquid in order to protect his delicate skin.  As he got older, I switched to the Free & Clear Powdered Laundry Detergent and have been equally happy.  I haven't had any trouble with colors fading.  It does a great job with stains (although I would recommend some pre-treatment with tough stains).  And my laundry is left smelling fresh and clean.  I also haven't noticed any problems with soap left on the clothes, which is something that I have had happen in the past with other powdered detergents.  The detergent worked great in my high-efficiency machine in my last house and in my standard machine in the new house.
Even better, Seventh Generation's detergents are non-toxic, hypo-allergenic, free of chlorine bleach, not tested on animals and free of phosphates and optical brighteners.  It ranks a 8.2 out of 10 in the GoodGuide's rating system, which seems to be based on the adequacy of their disclosure of ingredients.  Although Seventh Generation does disclose most of the ingredients in their products, the laundry detergent ingredient list states that "Trace materials are commonly present in cleaning product ingredients."  So my only complaint about this product is that I would like to know exactly what these trace materials are.
NOTICE: I did purchase this product myself and did not receive any compensation from Seventh Generation for this review.  However, blog posts on OnePartSunshine.com may contain affiliate links.  In other words, if you buy something after clicking on a link in this post, then I might receive an affiliate commission.