We are in a new house and have a beautiful 1,800 square foot piece of land available for the organic garden of our dreams.  My last and only other garden consisted of two 4×8 raised beds, so I obviously have quite a bit of planning to do to prepare for such a large amount of space.  And I don't have much time to do it.  The time to plant things like onions and lettuce is coming up in just a week or two.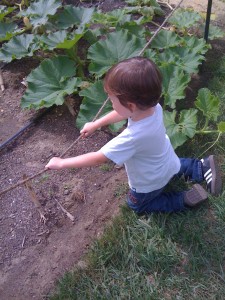 So I have been doing a ton of reading to prepare.  The two books that I have been pouring over are The Backyard Homestead and The Edible Garden.  Between the two, I think I have all of the information I need to start my garden.  I have also been using the seed catalog for Southern Exposure Seed Exchange, which is a great local seed company with a wealth of information in their catalog and on their website.
This garden isn't going to be all about work.  I am planning to construct a large tepee using bamboo to allow the beans and peas to grow up.  The goal is that Monster will have a super fun hideout while I'm working in the garden.  I plan to put in a couple of mini forts using strategically placed corn and sunflowers.  Monster will also have his own little garden to plant whatever he would like.
The garden will hopefully produce way more than my small family could ever eat.  I plan to freeze and can a great deal of the extra produce and then donate the rest to a local food bank.
Here is my plan for this year's garden:
1.  Sketch a layout for the garden.  I used a piece of graph paper with each square representing one square foot of garden space.  My plan is use several raised bed gardens ranging in size from 4×8 to 4×12.  I decided to keep the width at no larger than 4 feet so that I could easily access the produce within it.
2.  Till the garden area.  I am extremely lucky to have a landlord who has a tiller and is willing to till the soil for me!
3.  Order compost and fertilizer.  I am going to have a local company deliver a load of compost for me (approximately 1 cubic yard per 100 square feet of garden area) as well as some fertilizer.  I plan to just spread out the compost in the raised bed areas instead of over the entire piece of land so I can save money.
4.  Form raised beds.  I will use a rake and shovel to move the tilled soil from my walkways into the raised beds, which I will surround with a combination of bricks, cedar boards or stones.  I will then mix the compost and fertilizer into the soil of the raised beds.
5.  Plant seeds and seedlings.  I have a schedule written out of what to plant and when.  Given the sheer size of my garden, I have decided not to start any seeds indoors.  Anything that I cannot directly sow, I will purchase plants for from local farms (such as tomatoes and peppers).
6.  Weed, water and watch for pests.  Since this is an organic garden, I will weed my garden by hand and remove pests either by hand or using all-natural pest control methods.  I did this with last, smaller garden so I'm hoping I won't be overwhelmed this year.
Stay tuned for more information!
NOTICE: Blog posts on OnePartSunshine.com may contain affiliate links.  In other words, if you buy something after clicking on a link in this post, then the author might receive an affiliate commission.