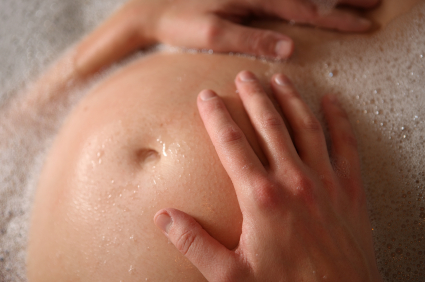 I mentioned in my previous post that my husband and I have decided to try for a second child.  Although I'm not pregnant yet, I have started my pregnancy beauty routine.  If you are thinking about getting pregnant or think that you might be already, there is no better time than now to start cutting out things that could potentially be harmful to your unborn child.  Things like alcohol and caffeine and even some essential oils and herbs can interfere with your child's healthy growth and development (see article on What to Avoid While Pregnant).  It's better to start being careful as early as possible because you could be pregnant for several weeks before you are able to take an accurate test.
I already try to live a natural and organic lifestyle but even some green products can have harmful effects on an unborn child.  For example, some essential oils have hormone-like behaviors and cause complications ranging from contractions to miscarriage (see the list of essential oils to avoid).  Essential oils can be found in everything from soaps to moisturizers, so it's best to carefully check labels.  I try to use products made for babies and pregnant women but I still check each and every ingredient on the labels.  There is a nifty tool by the Environmental Working Group called the Skin Deep Cosmetic Safety Database that allows you to enter in an ingredient to found out how safe it is.  Another great tool is the GoodGuide website which rates products according to safety – they also make a GoodGuide iPhone app that lets you scan in barcodes while you are shopping!  But keep in mind that certain safe products may not be safe for pregnant women.
So here is my pregnancy beauty routine:
NOTICE: Blog posts on OnePartSunshine.com may contain affiliate links.  In other words, if you buy something after clicking on a link in this post, then the author might receive an affiliate commission.