Happy "Green" Halloween!  I thought I would get in a quick post while my son naps before a big evening of trick-or-treating.  This Halloween has not been short on activities for us, and I have to admit that I will be relieved when it is over.  I would like to share all of the steps we have taken to green our Halloween – including the costume, pumpkins, and treats.
The first step was making a costume.  I am not a crafty person by any stretch of the imagination.  I cannot sew and I get most of my inspiration from sites like Martha Stewart and from some of the amazing bloggers out there.  So when I asked my son what he wanted to be for Halloween, I was terrified that he would say something like Buzz Lightyear, which would inevitably lead to me breaking my own rules and buying a costume.  But he wants to be a robot!  Now that I can do.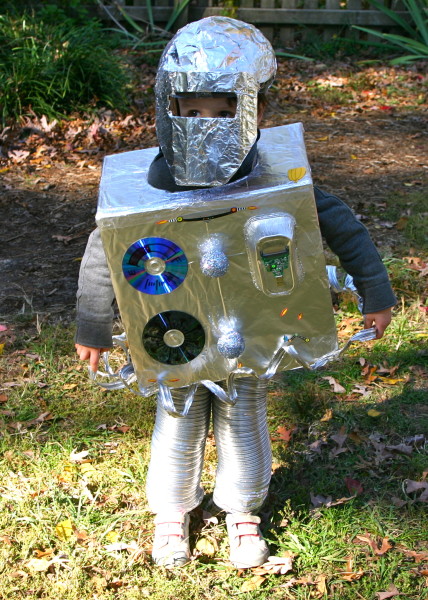 Our DIY homemade robot costume consists of a large cardboard box salvaged from a previous package sent to me.  I wrapped it in recycled aluminum foil and then glued on some old CDs, styrofoam balls covered with glitter, and a small foil pan with a broken card reader attached.  The legs are dryer ducts and the curly metal around the bottom of the box also came from the dryer ducts.  The head is simply his bike helmet with a cardboard mask taped on and then covered with more aluminum foil.  After this picture was taken, we added some battery-operated pumpkin lights so that the robot could have some working lights on it.  The whole costume was really easy to make and I didn't have to buy a thing.
Yesterday, we spent the day at a local pumpkin patch – the beautiful Liberty Mills Farm.  My son had a blast running through the 20-acre corn maze, which was composed of three different mazes designed to look like the Statue of Liberty, the American bald eagle, and the Liberty Bell.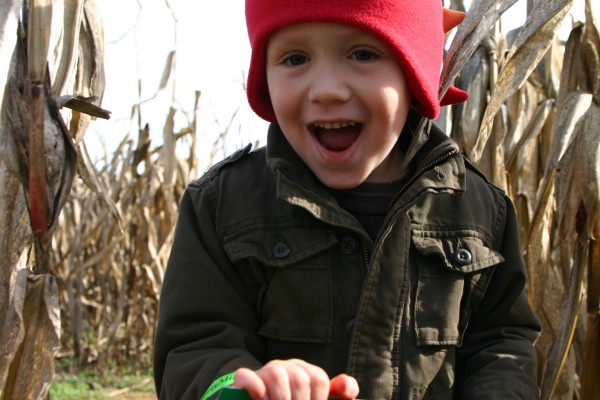 After the corn maze, we picked some organic pumpkins – some to use for pies and some to use for decorations and jack-o-lanterns.  After we are done with the pumpkins, anything we don't eat will be composted in our backyard composter.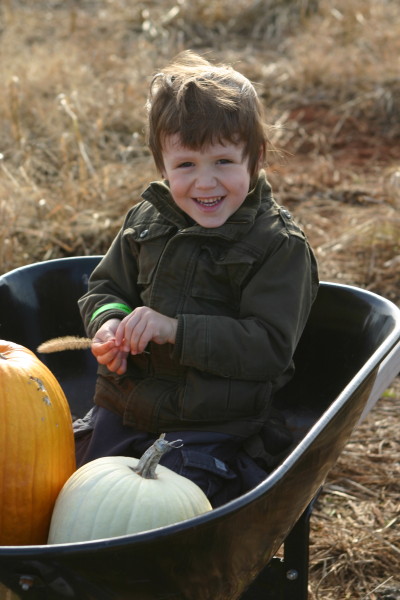 But, of course, my son's favorite part of Halloween is trick-or-treating.  We will be doing the standard run through the neighborhood, complete with conventional candy full of additives and high fructose corn syrup.  He will be allowed to pick out a small amount of candy to keep and the rest will be going to the candy fairy.  He is super excited about that!  The candy fairy (aka me) comes at night and takes the leftover candy and leaves great art supplies, stickers and healthy treats in its place.  The candy will then be donated to a great organization that sends it to the troops in care packages – Operation Gratitude.  Some dentists will also be doing candy buy-back programs.
Our own treat basket is filled with a mixture of organic fruit leathers, stickers, pretzels, organic chocolates, and Annie's Homegrown fruit snacks.  I hope that is results in tons of smiles instead of toilet paper in my trees.
Hope you all have a great Halloween!