I wasn't always a crafty person.  Every Christmas, I used to buy ornaments and decorations and boxes of processed cookies.  But I recently realized how fun and satisfying it is to make things by hand.  And an added bonus is the look in my son's eyes as he delicately paints a salt dough ornament or collects pinecones from our yard for his handmade wreath.  Just about every DIY project I did this holiday season was something that my son could be involved in.  Here are some of the projects we tackled this winter:
Decorations and Ornaments
Dried orange slice ornaments

– These look lovely hanging on the tree.  With the lights behind them, they have a stained glass appearance.  I also hung some on the kitchen cabinet knobs to give the kitchen some holiday cheer.  Just put a single layer of 1/4-inch sliced oranges on a cookie sheet and bake for 2 to 3 hours at 225 degrees Fahrenheit.  Bake until dry and keep checking to make sure they don't burn.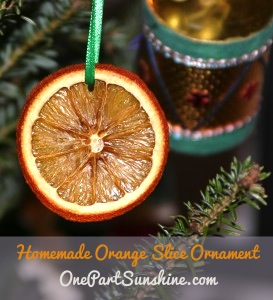 Salt dough ornaments – Every year we make salt dough ornaments and decorate them with paint and glitter.  This year, I hung a row of them over the fireplace.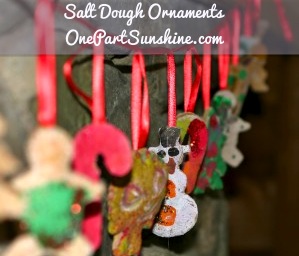 Popcorn and cranberry garland

– The key to this garland is to let the popcorn sit overnight or else it will crumble.  Use a needle and thread to string it.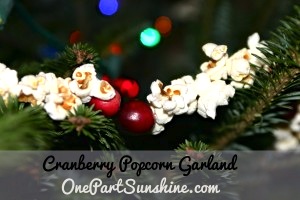 Cotton ball snow garland – I love the idea of hanging this from the ceiling and in the tree.

Dried pomegranate decorations

– I took several pomegranates, let them sit for a few weeks in my pantry and now I have them sitting in a bowl as natural holiday decorations.  Supposedly, these will keep for several years.
Gumdrop figures – My son had a blast making these (and snacking on the materials).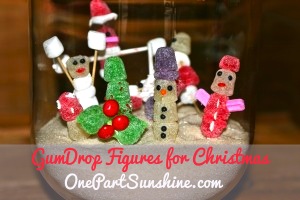 Homemade natural wreath – I purchased a plain evergreen wreath from a local farm and let my son decorate it using natural materials that we gathered from the yard.  Rather than attempt to fasten everything to the wreath, we have it sitting on our coffee table.
Gifts
Homemade beauty products

– For my sisters-in-law, I made a kit with lavender bath salts, oatmeal-lavender face scrub, eucalyptus and peppermint body soak and sweet orange and cinnamon body scrub and then wrapped it up in a vintage tea cloth.
Jar of Love – For the grandmas, I helped my son make a jar of love.  He answered questions about his grandmas, which I wrote down on small notes, and placed in a jar that he decorated.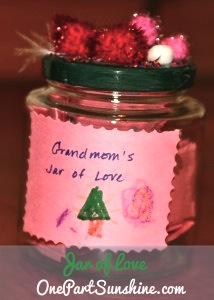 Hand-decorated handkerchiefs – My father-in-law carries handkerchiefs at work so my son decorated a set of 6 of them with fabric markers.

Pear and banana muffin gift basket

– These baskets went to the staff at my son's school and to our neighbors.

Personalized mug with

homemade chai

and local honey

– These were the perfect gift for my son's teachers.  I did a variation on the initials idea from Design Mom and personalized each mug with the teacher's full name using a porcelaine pen and included a bag of homemade chai tea.
Activities
Cut our own local Christmas tree

– Artificial trees are full of PVC and lead.  Plus, they end up in landfills.  We made a family event out of cutting our own tree, and we will recycle the tree into mulch when we are done.

Toy swap holiday party

– We are hosting a holiday party where each child will bring toys to swap.  This a great way to exchange holiday gifts without spending money or using resources!

Christmas tree lighting on downtown mall

– Our town had a great event with Christmas carols and a tree lighting ceremony.

Gingerbread house

– My son's school hosted a fantastic gingerbread house workshop using homemade gingerbread and icing.  I would choose this over those boxed kits full of artificial junk any day!
Want to read more about how to have a Green Christmas?
Want more One Part Sunshine?  Here's how: