One Part Sunshine is now on Pinterest!  Check out our craft and party ideas as well as beauty recipes and favorite products.
The best way to save money and go green at Halloween is to DIY.  The One Part Sunshine Halloween Pinterest board has a ton of ideas for Halloween crafts, decorations and costumes.
One of the most toxic parts of Halloween is costume face paint.  It is typically filled with things like lead, butane and propylene glycol.  A great alternative is to make your own face paint.  The following recipe was adapted from allrecipes.
Homemade Face Paint Recipe
10 teaspoons cornstarch
2 teaspoons all-purpose flour
5 teaspoons vegetable shortening or coconut oil
1/4 teaspoon glycerin
1/8 teaspoon natural dye or food coloring
Combine dry ingredients and then add shortening, glycerin and food coloring.  Apply to skin with your fingers, makeup sponge or brushes.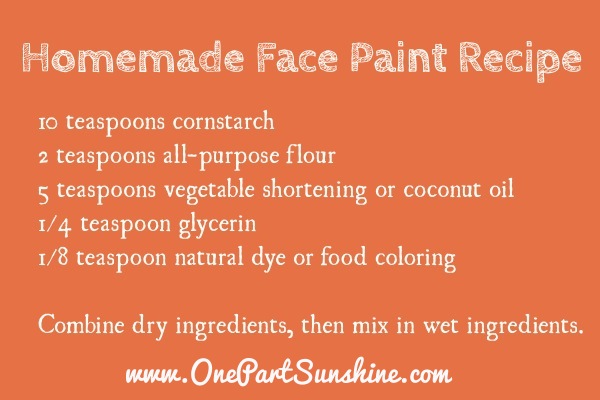 For more information on how to make edible warts, scabs and road rash, click here.
If you don't want to make your own face paint, here are some great natural products that you can buy: