When I asked my son what kind of party he wanted for his 5th birthday, he immediately replied, "A garden party."  He is definitely a boy after my own heart!  It isn't surprising after all of the time we spent in our garden this summer.  We grew everything from spinach to pumpkins and even constructed a beautiful bean tepee which really didn't flourish until the very end of August.
So I set to work putting together the garden party of his dreams (or at least I made a really good effort).  Monster requested a lemonade stand, an ice cream bar and a moon bounce (supplied by his grandma).  My goal was to make everything myself to make the party as eco-friendly as possible.  I even made this lovely felt party banner from 100% wool felt and my rudimentary sewing skills.  I'm hoping it will be used for years to come in place of the ratty old streamers that I have been reusing for the last 5 years.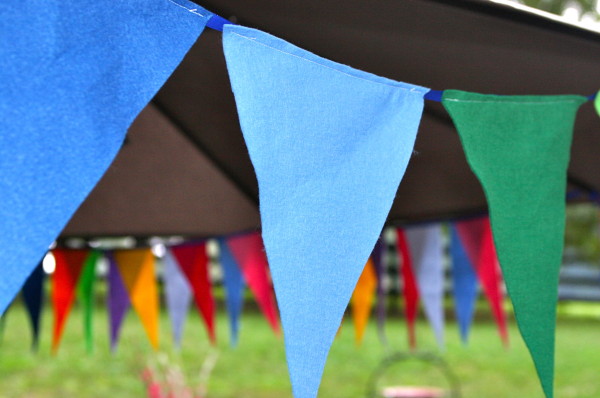 The party began with painting flower pots.  I set out everything the kids would need to paint the pots and then plant radish seeds.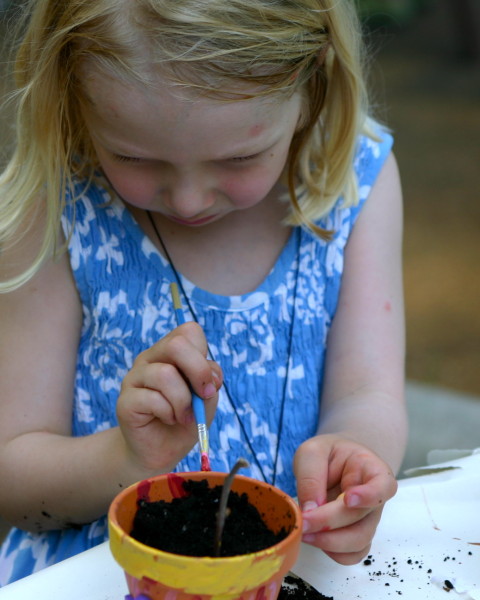 The lemonade stand was Monster's favorite part of the party.  He had been asking for one all summer but since we live in the middle of nowhere I was pretty confident that his sales were going to be extremely low.  We didn't charge for the lemonade but he loved handing it out to everyone throughout the whole party.
I printed the signs from One Charming Party and I got the pinwheel tutorial from Martha Stewart.
The cake was my own creation.  I used green icing and green tinted coconut for grass, lollipops for flowers, chocolate sandwich cookies for dirt and gummy worms and frogs for decorations.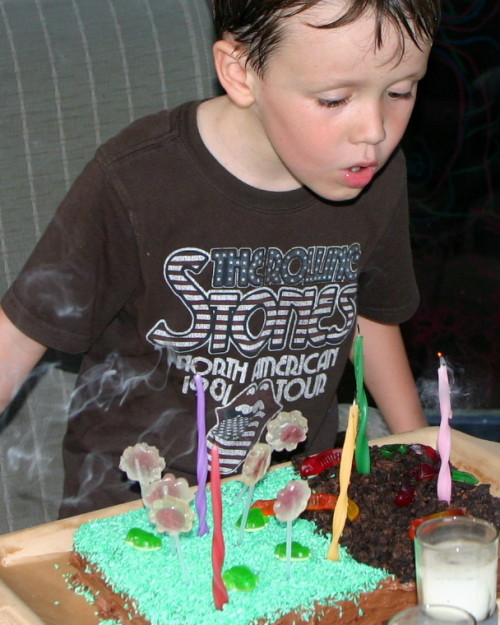 The ice cream bar was definitely the runner-up for Monster's favorite party activity.  I put all of the toppings in mason jars and supplied paper cups and wooden spoons.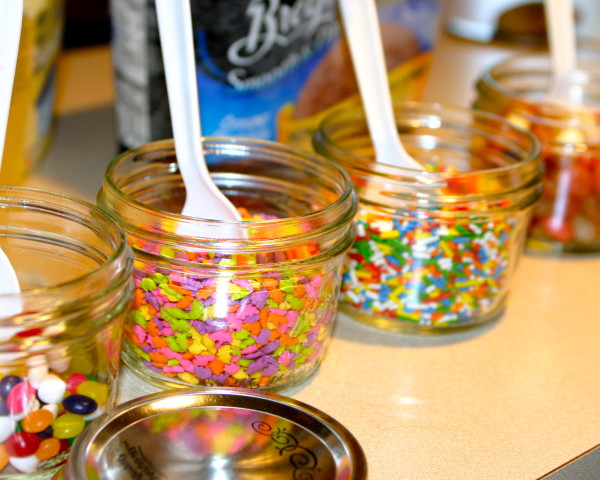 Last but not least, the gift bags.  I used the same clothespin pinwheels to decorate simple recycled paper bags.  And I filled them with bug and bird stickers, metal bug clickers, mushroom pencils, music CDs burned with garden-themed music and rubber bugs.
I had the garden-inspired music playing all afternoon.  Here's the playlist:
Ants Marching byDave Matthews Band
Apple Blossom by White Stripes
Every Rose Has Its Thorn by Poison
fake plastic trees by Radiohead
Firefly by Dan Zanes
Flowers In December by Mazzy Star
Forget The Flowers by Wilco
Gardening At Night by R.E.M.
Glow Worm
Honey Bee by Tom Petty
Maggie's Farm by Bob Dylan
Peaches by The Presidents of the United States of America
Still Raining, Still Dreaming by Jimi Hendrix
This Flower by Kasey Chambers
Tree Hugger by Kimya Dawson & Antsy Pants
The Valley Of Vegetables by Laurie Berkner
When the Roses Bloom Again by Billy Bragg & Wilco
Wild Honey by U2
Wild, Wild Party in the Loquat Tree by Indigo Girls
Wildflower by Kasey Chambers
Wildflowers by Tom Petty
With My Own Two Hands (ft. Ben Harper) by Jack Johnson