I used to be a bookstore addict.  I would go in and spontaneously buy whatever book or magazine caught my attention.  Some were worth reading but others were not.  Sometimes I remembered to return any books that weren't worth reading past the first page, but many many more just sat on my bookshelves.
As I made my gradual transformation into a green mom, I started paying more attention to my book- and magazine-buying habits.  There are literally billions of books and magazines out there.  And just about every single one of them came from trees.  More than 35 million trees are cut down each year just for magazine production.  And hundreds of millions more are cut down for books.  If that concerns you as much as it concerns me, then read on for some tips on how to cut down on cutting down trees.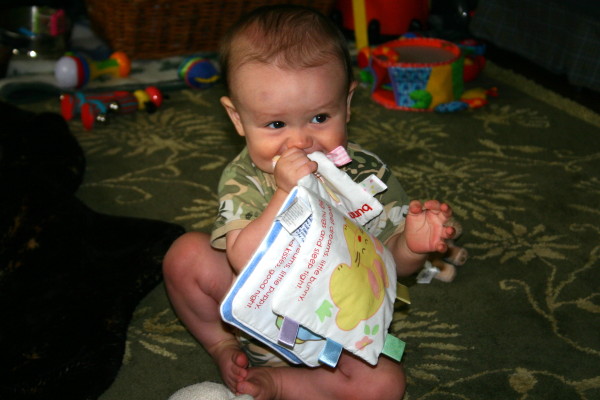 If you want to own paper books and magazines:
Buy books and magazines made using post-consumer-waste (PCW) recycled paper and preferably 100% PCW recycled paper (meaning no virgin materials were used).  And since you are re-using paper, less of it will be thrown into landfills.  If the book industry used an average of just 30% post-consumer waste, then 4.9 million trees could be saved.  And if you are feeling so inclined, it doesn't hurt to put a little pressure on book publishers to start making books using 100% PCW paper.  A company called FutureMark produces an 85% recycled fiber paper that can be used for glossy publications such as magazines.  For a list of magazines that have committed to using environmentally-responsible paper, check out Green America's Woodwise list.
If you can't find 100% PCW paper, buy books and magazines made using Forest Stewardship Council (FSC) certified paper.  The FSC certification was designed to promote responsible forest management.  According to the FSC, their certification benefits the environment by prohibiting the conversion of natural forests, the cultivation of genetically modified trees and the use of hazardous pesticides.  Check out www.fsc.org.
Try plant-able books.  Novelist James Kaelan's first edition novel, We're Getting On, has a cover made of birch seed paper so you can plant it and grow a tree when you're done reading it.
Paperbackswap (PBS) is a great resource.  List your old books on the PBS website, mail them to members who request them, earn credits, and then use your credits to request books from other members.  All you pay is the price to ship your books.  Other similar sites are BookMooch and TitleTrader.
Trade books with your friends and family.
A company called Eco-Libris plants a tree for each book you read to help offset the paper used to make the book.  You just donate a dollar for each book and Eco-Libris uses it to plant a tree.  You can also earn points with BookMooch by planting trees with Eco-Libris.
If you want to find a new home for your old books and magazines:
Again, try Paperbackswap.com, BookMooch.com or TitleTrader for your old books and get new books in the process.
Donate used books to your local library or community center.
Take your used books into a used bookstore.
Give used books and magazines away to your friends and family or bring them into your local gym or doctor's office.
If your books are in really poor condition or you just can't find a new home for them, recycle them.  This is especially important for magazines since it's harder to find new homes for them.  According to the PAPER Project, over 90% of magazines are thrown away within a year after publication and only about 20% of them are recycled.  To find a place where you can recycle your magazines, try Earth911.com.
Recycle old magazines into great craft projects, like a catalog dollhouse, magazine table, magazine garbage can, or magazine jewelry.
If you just want to borrow books and magazines:
Try the library.  Libraries are becoming increasingly easy to use.  My local library has a great web-based system that allows me to find books online and place holds on them.  When they are available, I can pick them up at the location of my choosing.  Many libraries also have storytime hours for kids of all ages.  Find a library near you.
Borrow from friends, family, coworkers and others.
If you are a student, try renting books from sites such as Chegg.com.  Book rental services enable you to save money and trees at the same time!
If you want to rent regular fiction and non-fiction books, try sites like BookSwim.
Go digital:
A lot of magazines (like Mothering Magazine) are starting to offer digital subscriptions.  This is a great way to avoid using paper.
Try Zinio.com for digital magazine subscriptions and books.
There are a ton of great digital book devices on the market now.  Some of the options include Kindle, Nook and iBooks for the iPad, iPod and iPhone.