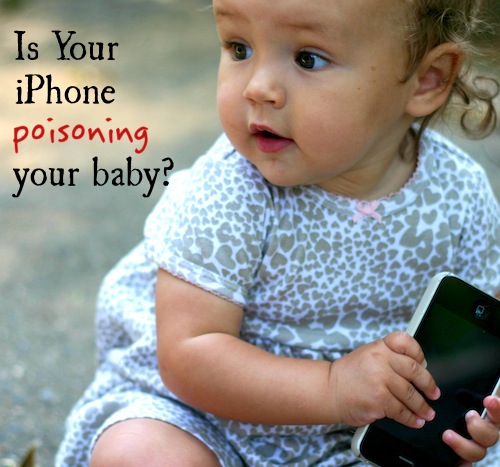 This post contains affiliate links. If you buy something after clicking one of these links, we receive a small commission (at no cost to you). Help support One Part Sunshine and our mission to reduce toxins in your child's environment by purchasing all of your Amazon products through our affiliate links!
At nine months old, my daughter is intent on getting her hands on anything that is not appropriate for babies. My cell phone is her biggest obsession. Whenever she is fussy, all I have to do is hand her my iPhone and she calms right down (I don't turn it on for her though). Of course, she also promptly sticks it in her mouth. Which led me to wonder what kind of toxins might be lurking in my phone and case.
According to HealthyStuff.org, researchers evaluated the level of toxic chemicals in 36 different cell phones and found chemicals of concern in every single one. These chemicals included lead, bromine, cadmium, mercury and chlorine and are linked to serious complications including cancer and birth defects.
My phone, the iPhone 4S, ranked low overall (the second least amount of toxic chemicals) and the iPhone 5 ranked fifth. While I am somewhat reassured by this information, I am still worried about even low levels of toxic chemicals. I will definitely try to limit how much I let her play with my iPhone.
However, I admit there will still be times when I will let my baby play with my cell phone. So to minimize the amount of toxins that she is being exposed to, I plan to cover my iPhone with a case that is low in toxins. Unfortunately, this is a lot harder than it sounds. Cell phone cases don't usually disclose how toxic they are or even what the are made out of. After hours of searching, I came to the conclusion that the safest options are cases made out of 100% wood or silicone. While this isn't a guarantee that there aren't toxins hidden in these materials, they are the best options for now. If you get a wood case, pay attention to the type of finish used on it as well as whether any toxic glues were used in its construction.
Here are some options that I found for safer iPhone cases: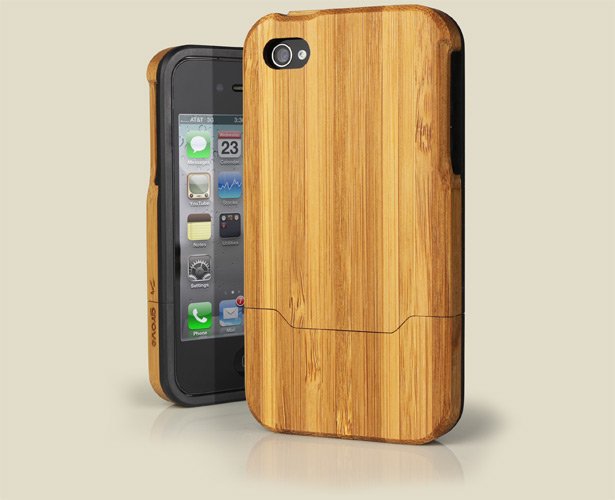 The Grove case is constructed from a solid piece of bamboo that is laminated to a solid surface materials interior. While I'm not sure what this interior material is, I like that the exterior is 100% bamboo and that the phone is 100% made in Portland. And they finish it with natural oils and wax.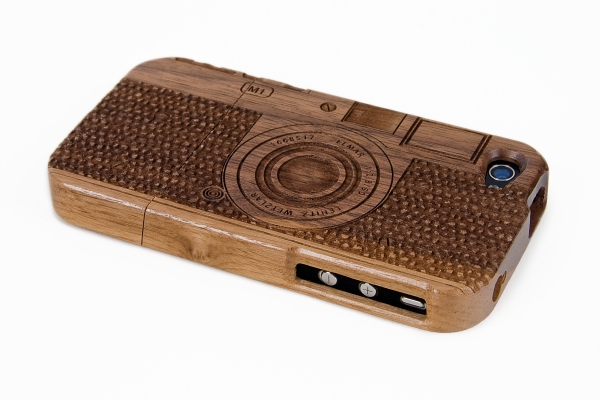 This case from Photojojo is constructed of sustainable walnut wood. And I love how they carved it to resemble a vintage camera.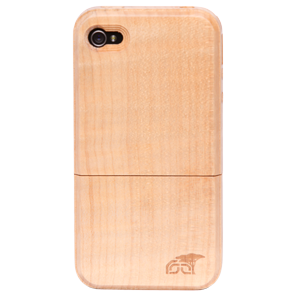 3. Root Cases
Root Cases makes solid wood and bamboo cases for the iPhone. Plus, they work to plant a tree for every case purchased.
Constructed in the Netherlands, the iWood case is made from real wood from well-managed forests.
Carved is in the process of making a 100% solid wood iPhone case, and I can't wait to see the final result!
6. zCover gloveOne Silicone Case
This case is made from non-toxic, latex-free, healthcare-grade, silicone rubber. And it's extremely durable.
7. TRTL BOT KidSafe iPhone Case
While this case is made from plastic, the company claims it is manufactured in the USA using BPA-free, non-toxic recycled plastic. It features a reversible case that covers the home button so your child can play with your phone without calling everyone in your contact list.
I would love to hear about any non-toxic iPhone cases that you have found!
Want more One Part Sunshine?  Here's how: