Many of you have probably played that baby shower game where everyone has to taste different flavors of jarred baby foods and then guess what you were tasting.  And, if you were like me, the whole game was bordering on painful because jarred baby food is disgusting!!  Even the applesauce doesn't actually taste like applesauce, but rather some watery, apple-like concoction.  The organic jarred baby foods are definitely healthier but don't taste much better.
It was at a relative's baby shower, after playing that game, that I resolved to make my own baby food when my child was born.  And so I did.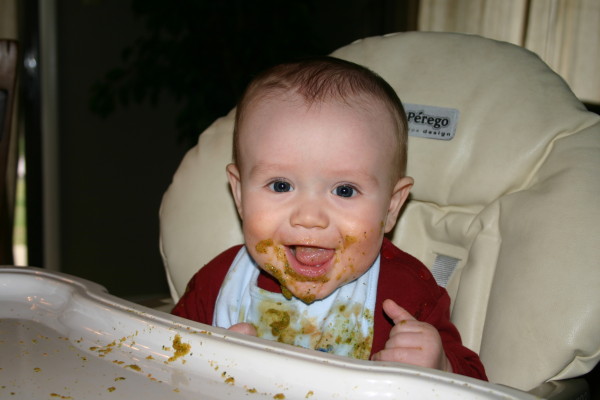 The process was definitely intimidating.  I worried that I wouldn't have the time between diaper changes and screaming fits.  But it was easier than I expected.  At first, I just mashed up a ripe organic banana or avocado with the back of a fork.  I took other fruits and vegetables and steamed them using a steamer basket and then pureed them with either my Oster glass blender or a food processor.  The Magic Bullet food processor was a really convenient tool because the processor bowls come in various sizes including very small cups for single servings.  The bowls also come with their own lids so you can just pop them into the fridge for later.  I'm not sure I would use it again because it is made out of plastic but it certainly made life easier.
A new tool came out called the Beaba Babycook.  Although I haven't had a chance to try it, it claims to steam, blend, warm and defrost baby food.  Definitely looks like it might make the whole process a little easier so long as you don't have an objection to plastic.
Another method I didn't try but definitely will be giving a shot the next time around is a food mill (I prefer the stainless steel versions to the plastic ones).  These nifty tools don't use any electricity – you just turn a handle to puree your baby's food.  This would be a great way to make baby food when you are at a restaurant or on vacation.
As my baby got older, I just started pureeing whatever my husband and I had for dinner.  If we had chicken and vegetables, I would cook some without the seasoning and puree it.
I would make his food in large batches and freeze them in Pyrex or Anchor 1-cup glass bowls.  Another method is to use ice cube trays or similarly designed baby food cube trays, but I did not like the idea of freezing or storing baby food in plastic (see article on Plastics for more information).  The glass bowls were great because they could go from the freezer to the oven or microwave.
And of course I always used organic and all-natural ingredients.  I never ever added sugar to any of his food.  Fortunately there are a lot of great cookbooks for making baby food.  And I love the websites Weelicious and Wholesome Baby Food for even more great recipes.
NOTICE: Blog posts on OnePartSunshine.com may contain affiliate links.  In other words, if you buy something after clicking on a link in this post, then the author might receive an affiliate commission.