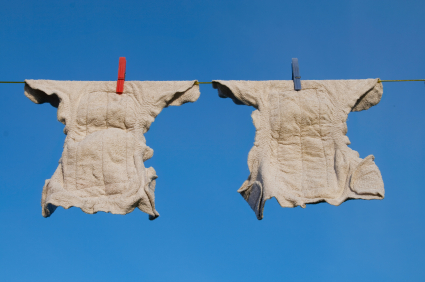 If you are a new or expecting parent, you have more than likely already been confronted with the diapering dilemma.  But the choice is a little more complex than disposable versus cloth.
Conventional disposable diapers typically contain a ton of toxic chemicals – found in the form of dyes, plastics, fragrances, chlorine bleach and absorbent polymer gels.  These ingredients have been linked to things like skin irritations, respiratory problems and even cancer.  Conventional wipes are no better.  They are usually whitened with chlorine bleach and contain things like alcohol and artificial fragrances.  Standard diaper creams also contain fragrance (which is a catch-all ingredient  for a range of dangerous phthalates and VOCs) as well as other toxic chemicals.
So what is a parent to do?  One option is to purchase more natural diapers, wipes and diaper creams.  Fortunately, these options are readily available from companies like Seventh Generation and California Baby.  But to be completely sure about what goes on your baby's skin, you can make your own diapering products.
Homemade Diapers
There are literally hundreds (if not thousands) of cloth diaper options.  Some of them are made out of completely natural, non-toxic materials such as organic cotton, wool or hemp.  But most include some sort of plastic liner to prevent leaks.  And most are pretty expensive.
Your best bet for affordable and natural diapers are to get the flat, old-fashioned diapers.  Flat diapers are essentially a square or rectangular piece of cloth.  You could make these diapers yourself but they are pretty affordable to buy – ranging in price from 35 cents to $20 depending on the material you choose.  And you will never need to buy larger sizes.  You simply fold them into a triangular shape and secure with pins or Snappis.  For extra protection, you may want to pair them with a diaper cover – you can make your own using this tutorial by MADE Everyday.
Another affordable and natural diaper option is the prefold diaper.  Prefolds are composed of three panels and multiple layers of fabric.  They are typically more affordable than all-in-one and pocket diapers, but you could also make prefolds yourself.
For both flat and prefold diapers, try adding doublers or soakers when you need even more protection.  You can make your own wool soakers from old sweaters using a simple, no-sew method.  Or you can create diaper doublers from old towels, washcloths or receiving blankets with only a minimal amount of sewing.
Homemade Wipes
Not only are conventional disposable wipes filled with toxic ingredients such as parabens, chlorine bleach and propylene glycol but their packaging creates a huge amount of waste.  To save money as well as your baby's health and the planet, try reusable cloth wipes.  You can use baby washcloths or purchase cloth wipes.  Or you can make your own wipes by cutting up old t-shirts, flannel sheets or towels.  If you aren't confident in your sewing skills, just cut them up using pinking shears to stop fraying.  Check out this tutorial for making your own reusable cloth wipes kit.
For cleaning baby, the cheapest and easiest method is to use plain water with your reusable wipes or water with a few drops of essential oil.  If that just doesn't seem like enough to you, you can purchase a natural wipes solution or make your own.  Try these recipes for homemade diaper sprays or wipes solutions:
Homemade Diaper Rash Treatments
Diaper rash is inevitable whether you use cloth or disposable diapers.  Conventional diaper rash creams and ointments contain a cornucopia of toxic ingredients.  Organic and natural treatments are usually much safer but they can be expensive.  To be completely confident about the safety of the products that are absorbed into your baby's skin, try making your own diaper rash treatments.
For a simple way to ease diaper rash, try a washcloth or cloth wipe dipped in cool chamomile tea and apply it to the rash.  Or add chamomile tea to baby's bath water.  Other DIY treatments include applying a small amount of one of the following to baby's bum in between diaper changes: olive oil, coconut oil, lanolin or breastmilk.  You can also try this Homemade Diaper Cream from the Crunchy Chicken.
NOTICE: Blog posts on OnePartSunshine.com may contain affiliate links.  In other words, if you buy something after clicking on a link in this post, then the author might receive an affiliate commission.  Also, I am not a doctor.  Please consult a healthcare professional if you have any questions or concerns about anything in this posting or on the site in general.  Please keep in mind that you should not use essential oils on any baby who is less than six months old.  Check with a health care professional before using any of these products on your child.