When I was growing up, my mom packed my lunch every day.  Most of the other kids envied me because my lunchbox was packed with yummy treats like fruit roll-ups and Hostess cakes.  Typically, I skipped the sandwich and went right to the sugar-packed goodies.  I love my mom for putting things in my lunch that she knew would make me happy.  But it probably has a lot to do with my current weakness for sugar and for the urgent pull I feel every time I pass a spongy cake filled with cream.
More than 20 years later, many kids today still have lunches filled with high fructose corn syrup, partially hydrogenated vegetable oil, artificial flavors and artificial colors.  From preschool through high school, it isn't unusual to see lunch boxes with sugary soda and treats, processed meats and greasy chips.  For more information about the dangers of these ingredients, check out Healthy Child Healthy World.
It's easy to understand why parents choose lunches like these – the foods are cheap, easy to find and come in convenient individually-wrapped packaging.  Unfortunately, there is a high cost to convenience.  These junk food ingredients have been linked to weight gain, Type 2 Diabetes, hyperactivity, allergies, heart disease, stroke, and even cancer
We do have other options.  We are lucky to live in a time when natural, healthy foods also come in individually-wrapped packaging.  You can provide your children with a quick and easy lunch that is still healthy.  Or you can take it a step further, cut out the packaged foods altogether, and send your child to school with a lunch box full of homemade goodness.
Check out a bad, good and best way to pack a school lunch:
Typical Lunch Box
The standard lunch box often contains a sandwich made with white bread with peanut butter and jelly, fruit snacks, chips, a yogurt tube, and a soda.  Conventional white bread has ingredients such as high fructose corn syrup and refined flour.  Conventional peanut butter has hydrogenated vegetable oil and the jelly usually lists high fructose corn syrup as a main ingredient.  Many chips are filled with hydrogenated vegetable oils, artificial colors and artificial flavors.  And the innocuous-sounding yogurt tube  has high fructose corn syrup, artificial colors and artificial flavors.  And of course soda is filled with high fructose corn syrup and completely devoid of anything nutritious.  The fruit snacks are guilty of containing all four of the junk food ingredients.
Green Lunch Box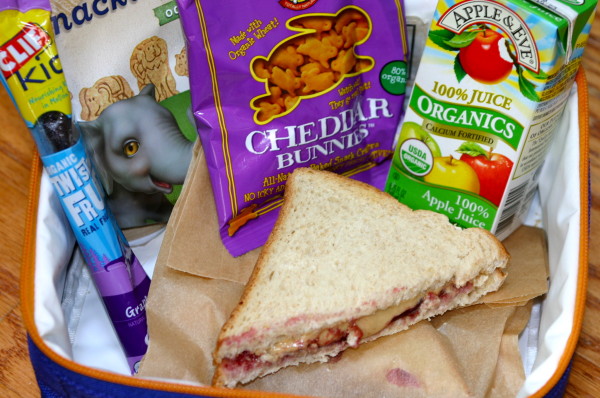 A greener and healthier way to make a school lunch is to try all-natural whole grain bread with organic peanut butter and organic jelly, all-natural twisted fruit leather, organic cheese crackers, an organic yogurt tube, and an organic juice box.  These items are just as easy as the typical lunch above but contain only natural ingredients and are far healthier choices.
Greenest Lunch Box
If you want to choose the healthiest possible lunch for your child, go the homemade route.  Try a lunch with items such as homemade whole grain bread, freshly-ground organic peanut butter, homemade jelly with no added sugar, cherry tomatoes, trail mix, homemade yogurt with organic blackberries, and water.  Put the foods in reusable, plastic-free containers such as the Klean Kanteen water bottle or Lunchbots food containers.  Choosing this type of lunch allows you to control the amount of sugar and other ingredients in your child's meal.  You are also able to cut down on unnecessary packaging waste.  And you can avoid plastic containers and packaging, which often have toxins such as BPA and phthalates.
Don't forget about the lunchbox.  Reduce waste and skip the paper bag.  Opt for lunch boxes and containers that are made from BPA- and phthalate-free materials.  For more information on choosing the best lunch box, check out One Part Sunshine's post on Avoiding Toxins in Lunch Boxes.