Halloween treats are known for being over-processed and full of sugar, artificial colors and artificial flavors.  Many candies, especially the super-cheap ones or those that are designed to look like eyeballs or spiders, are made in places like China, which isn't exactly known for putting out safe products.  Do your part by handing out all-natural, organic treats.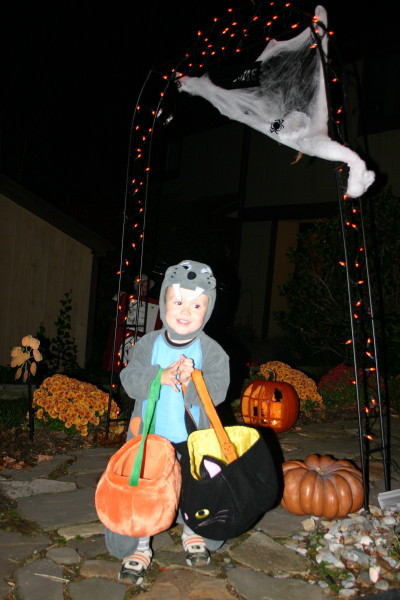 Don't know what to do with all of the junk candy that your child receives?  Buy healthier treats or toys for your own kids and trade for any junk candy they collect.  I find that a 2-for-1 trade usually provides a little more incentive.  Or you can do science experiments with the candy!  A great website called CandyExperiments.com has a ton of ideas for fun experiments and games that you and your child can do with leftover candy.
And don't forget to splurge for a quality, reusable treat bag that will last for all of your child's trick-or-treating years.  Support a good cause and buy a UNICEF FEED Trick-or-Treat bag.  Or if you are especially crafty, you can make your own treat bag.  Your child can win some pretty cool prizes by designing a Halloween bag for ChicoBag and Green Halloween's treat bag contest.
Non-edible treats are another great way to avoid all of the junk candy.  But just make sure to avoid junk toys.  A lot of the dollar store type toys can contain toxins such as lead, cadmium and phthalates.  Aim for more natural options such as all-natural playdough or non-toxic temporary tattoos.  Check out the list below.
marbles
bouncy balls
play dough like Mary's Softdough
bubbles
decorative erasers
NOTICE: Blog posts on OnePartSunshine.com may contain affiliate links.  In other words, if you buy something after clicking on a link in this post, then the author might receive an affiliate commission.