When choosing a pumpkin, one big consideration is whether to buy organic.  Pumpkins fall at number 38 of 53 in the Environmental Working Group's Shopper's Guide to Pesticides (with 1 being the produce with the most amount of pesticides).  So pumpkins aren't as big of a concern as apples, for example, when you are trying to avoid pesticides.  But they aren't the best either.
If you plan to cook with the pumpkins, I would definitely suggest going with organic.  You can usually find organic pumpkins at stores like Whole Foods.  Or you can look for a local farm that grows organic pumpkins by using LocalHarvest, EatWellGuide or Pumpkin Patches & More.  Start planning for next year and grow your own organic pumpkins!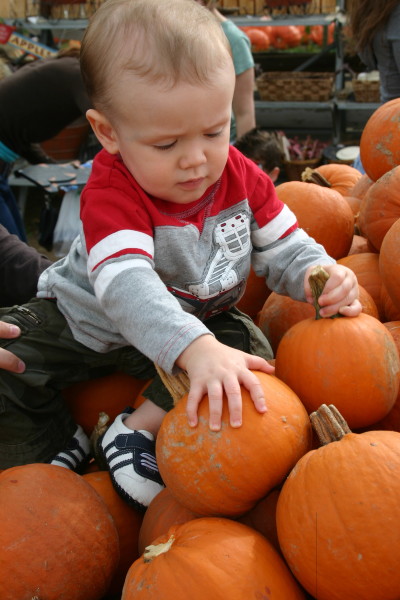 If you are using your pumpkins for decorations or jack-o-lanterns and cost is an issue, then you can get away with conventional pumpkins.  You may still want to choose organic pumpkins because the use of pesticides causes harm to the environment and eventually ends up in our air and water.  If you can't afford an organic pumpkin, at least choose one from a local source to minimize the impact of transportation on the environment.
When lighting your jack-o-lanterns, skip the candles.  Not only are they a fire hazard but they are typically full of toxins, like toluene and benzene, that are released when burned.  Instead, wrap some Christmas lights around a mason jar and put that in your pumpkin.  Or choose candles made of soy or beeswax.
When you are done with your pumpkins, please compost them.  If you don't have your own compost pile, try to find one near you.  Many cities and towns have composting programs – find a recycling center near you that takes organic waste on Earth911.com.  For more information about starting your own composting system, visit Planet Green.
For some great pumpkin decorating and carving ideas, try Martha Stewart's Pumpkin Decorating Ideas.