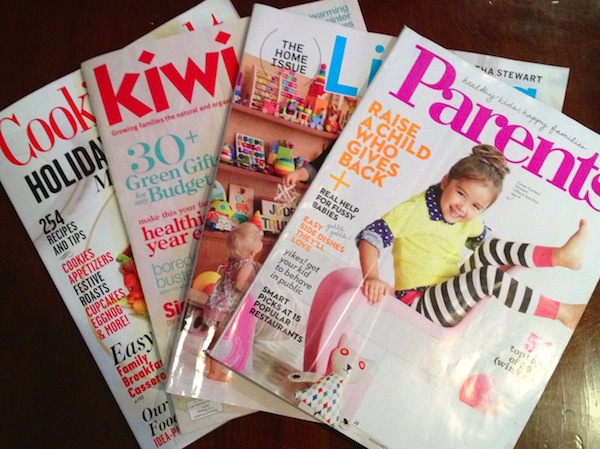 I love reading magazines.  They are a fantastic resource for craft ideas, recipes, parenting tips, fun things to do and more.  But every month I used to end up with a grocery bag full of magazines.
Rather than toss them in the garbage, I would try to pass them along to someone else. I would post them on Freecycle, Craigslist and local Yahoo parents group.  I would offer them to friends and family.  But usually I had very few takers.
So I found a new solution . . . Zinio.  Zinio is a great resource for anyone who loves magazines. It's a way to read magazines in digital format. You can read them on your iPad, phone or computer.  And instead of tearing out pages when you see something you want to save, you can bookmark it or take a screenshot of it.  I use Evernote to organize all of my clippings (see my post on why I love Evernote).
I have been slowly switching my print magazines over to Zinio but have still been receiving several in the mail each month.  So my good deed this week was to finally switch over those remaining subscriptions.  By completely switching to digital subscriptions, I am reducing the amount of paper that I consume and the amount of paper that ends up in the trash or recycling center.  Not to mention that the energy required to make and deliver those magazines to me each month.
Unfortunately, there are some (not many) magazines that Zinio doesn't carry yet. Most magazine offer digital subscriptions independently through apps on the iPad and other devices. So for those I can't find on Zinio, I just go directly to the magazine's website and get it there.
Want more One Part Sunshine?  Here's how: