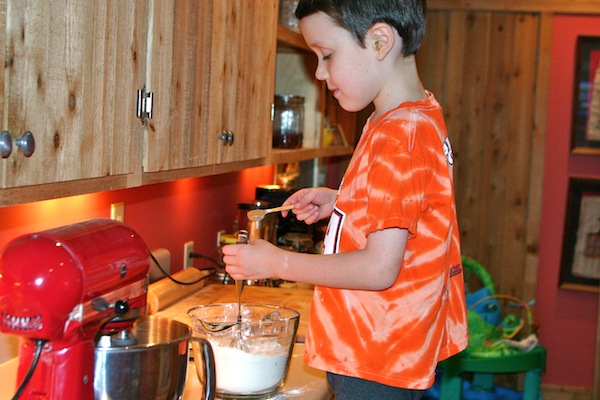 For our second good deed, I wanted to do something for people in our community.  So Monster decided on doing something nice for our librarians.
We are fortunate to live in an area with an amazing library system.  Rarely have I gone looking for a particular book and not been able to find it.  We have read hundreds of books, listened to tons of audiobooks and even rented a bunch of movies – all through our local library.
On top of the amazing resources our library provides, it has also been our go-to place for fun classes and activities.  Monster has participated in everything from standard story times to Spy Schools and Peep Diorama workshops.  He has built fairy houses and watched juggling/magic acts.  And he has gazed in awe at African drumming performances and comedy routines.  All at the library.
Needless to say, we love our librarians.  They are caring, patient and really love their jobs.  And I'm sure they don't hear thank you enough.  So to show them our appreciation we baked them a batch of banana muffins.  It isn't the basket full of money that I would like to give them but it's something!
And so all of you can do something nice for your librarians, I am sharing my banana muffin recipe (adapted from a Cooking Light recipe).  You can add blueberries, walnuts or chocolate chips for a special touch.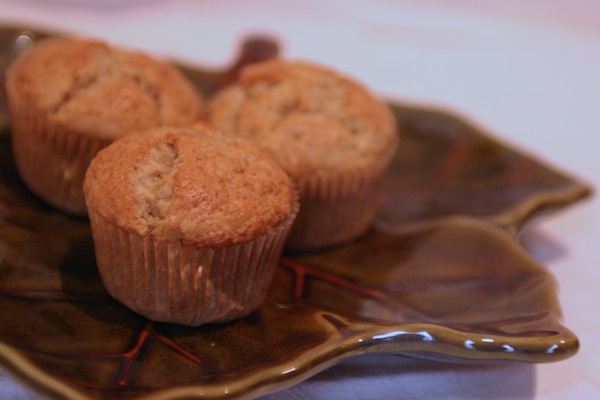 Banana Muffins (makes 12 muffins)
Ingredients:
2 cups organic all-purpose flour
3/4 cup organic raw cane sugar
1 teaspoon baking powder
1/2 teaspoon baking soda
1/2 teaspoon kosher salt
1/2 teaspoon organic ground cinnamon
1 cup mashed ripe bananas (2 to 3)
1/2 cup low-fat organic buttermilk
6 tablespoons organic butter, melted and cooled (you could also use canola oil here)
1 large free-range egg
Directions:
1. Preheat oven to 350°.
2. In a medium bowl, blend the flour, sugar, baking powder, baking soda, salt, and cinnamon.
3. In another large bowl, whisk bananas, buttermilk, butter, and egg to blend. Stir flour mixture into banana mixture just until evenly moistened; the batter will be stiff. Add 1 cup walnuts, blueberries or chocolate chips if desired.
4. Spread batter in muffin pan coated with cooking spray or lined with paper cups.
5. Bake in preheated oven until a toothpick inserted in the center of one of the muffins comes out clean, approximately 25 minutes.
6. Let muffins cool in pan on a rack for 10 minutes, remove from pan, and place on rack to cool completely.