When the sun is bright and the air is warm, my three-year-old and I both have this uncontrollable urge to be outside.  In an effort to keep him entertained, I have come up with a whole list of fun things to do outside.  Sometimes a bucket full of water and some cups is all it takes, but other times I like to be a little more creative.  Being outdoors is also a great opportunity to teach your child about nature.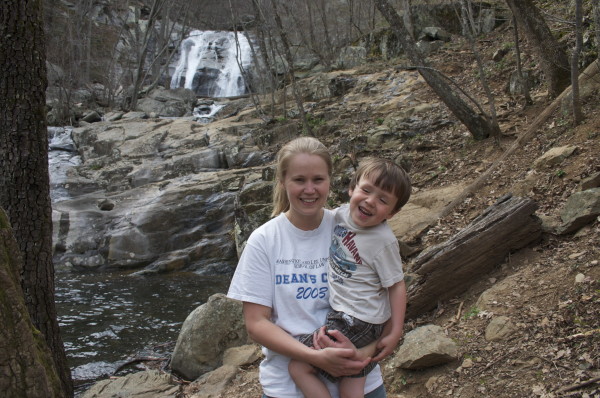 Here is a quick list of fun things we like to do outside:
Geocaching – This is an AMAZING activity for kids!  It's an organized form of treasure-hunting using your iPhone or some other GPS device.  There are over one million geocaches (treasures) around the world.  You can get your kids outside, exercising, and find fun toys and trinkets.  Visit the Geocaching website for more information.
Hiking – Whether it's a walk around the neighborhood or a hike up a mountain, kids love to explore.  We turn our hikes into mini scavenger hunts and tell Wyatt to look for things like two trees stuck together or a small toad.
Playgrounds – You can find playgrounds everywhere.  They are also a great opportunity to work on those people skills.
Dig in the dirt – Hide mini dinosaurs in the dirt and turn regular old dirt digging into an archaeological adventure.
Hunt for bugs – Bring a jar with some holes in the lid and collect bugs.  Looking under stones and sticks usually produces the best finds or try hitting a tree with a stick and see what falls out.  Use a magnifying glass and try to figure out what kind they are by looking online at InsectIdentification.org.
Collect rocks, pinecones, and sticks – You can use them later to create some great art projects.  For ideas for fun craft projects, try Disney's Family Fun.  You can also do crayon rubbings with leaves, flowers, bark and more.
Play sports – Whether it's just playing catch or kicking a soccer ball, kids love to play sports.
Ride bikes – For some bike-friendly trails, check out trails.com.  You can also ask around at your local bike shops for suggestions for family-friendly trails.  Some shops also rent out bikes and equipment.
Fly a kite – There is nothing better than the look on my son's face as he holds a kite string.  Find a place with a lot of open space and try on a windy day.
Draw with chalk – I always keep some sidewalk chalk in the car to keep Wyatt entertained when we go to outdoor concerts or playgrounds.  I have also used it when my husband and I played tennis and we wanted to keep Wyatt busy (but some courts won't allow it).
Have a picnic – Even if you just grab some take-out and sit on a blanket in a grassy area of a parking lot, having a picnic just makes mealtime more fun.  Try to remember to bring along some reusable napkins, plates and utensils to reduce your waste.  For a spin on traditional picnics, try Muffin Tin Meals.
Blow bubbles – You can make your own bubble solution using a little dish soap and water.  And just about anything with a hole in it can be a bubble wand – try pipe cleaners, plastic lids with holes cut out or plastic strawberry baskets.
Fingerpaint – You can save money and reduce your child's exposure to toxins by making your own all-natural fingerpaint.  The Nature Moms website has a great recipe.
Play in the sprinkler – Need I say more?
Do a scavenger hunt – Hide things throughout the yard and leave clues for your children.  Or have them find things from nature, like birds and moss.  This could keep them entertained for hours.  Disney's Family Fun website has some great ideas for scavenger hunts.
Take pictures – Give your kids a child-friendly digital camera and let them snap away.  Later, you can create a scrapbook of all of their favorite photos.
Find animal tracks – Search the soil for animal tracks.  Have fun guessing what kind of animal left them and then see if you are right by checking out Beartracker's website.
Try rock stacking/balancing.  Take your children on a hike or to the beach and encourage them to leave a piece of art behind by making a sculpture out of stones.  

Go to a pick-your-own farm – Kids love to pick fruits and veges.  For a pick-you-own farm near you, visit localharvest.org or pickyourown.org.
Go to an outdoor concert -Find events near you at festivalnet.com.
Go to the beach – Even if it's just a beach on a lake or river, kids love to dig in the sand and play in the water.
Go tubing or canoeing – Nothing says relaxing like sitting on a tube or canoe and floating down a river.  You can find places that will rent the tubes or canoes to you, drop you off at the beginning of the trip and then pick you up at the end.  Bring a lunch and stop somewhere along the shore.
Build a birdhouse – Then keep a record of the birds that you see.
Catch a crawfish – Let your kids shuffle through a creek armed with a small net and a jar.  They can find frogs, tadpoles, crawfish, bugs and more.
Camping – If you are adventurous enough to brave the outdoors at night, camping is a great adventure for kids.  Don't forget the smores!  Better yet, join the National Wildlife Federation's Great American Backyard Campout on June 26th!
Clean up – Walk around your neighborhood or local park and pick up litter.  You get exercise and the opportunity to teach your children the importance of respecting the earth.
Plant a garden – Let your kids see what happens when they plant a seed in the ground.  You can use the fruits of your labor to make dinner together.  If you don't have a yard, try gardening in pots.
Visit a local garden or park – We used to live near Longwood Gardens in Pennsylvania and went there practically every week.  Wyatt knows more names of flowers than I do now.  Another beautiful one is Maymont Park in Richmond, Virginia – that's where my husband and I got married!
Go to a swimming hole. For a list of them near you, visit www.swimmingholes.org.
For some more fun things to do outdoors, try the site www.naturerocks.org.
Want more One Part Sunshine?  Here's how:
NOTICE: Blog posts on OnePartSunshine.com may contain affiliate links.  In other words, if you buy something after clicking on a link in this post, then the author might receive an affiliate commission.