I am now homeschooling (it's a long story), so I am constantly on the search for new learning ideas.  I decided to help Monster build a terrarium using only materials gathered from our backyard (except for the jar).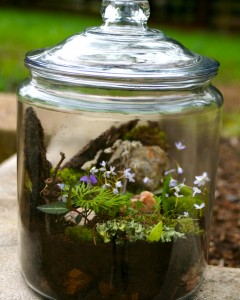 We started with a base of beautiful granite and quartz found in plentiful amounts in the dirt in our yard.  We added several inches of composted soil that was left over from our garden.
Then we searched for the plants.  We took a leisurely hike through our backyard picking up whatever pieces of the backyard struck our fancy.  We ended up with a lovely combination of flowers, ferns and moss with a few rocks and pieces of bark thrown in.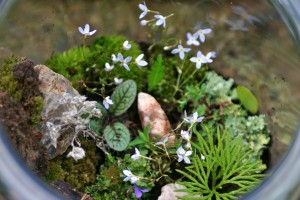 Monster's favorite part was the hike and digging up the plants.  But he also loved putting everything into the jar.  We keep the top on it and spritz it with some water every week or so or when it looks dry.  Several weeks later, the terrarium still looks beautiful.
The conditions of the terrarium (such as the high humidity and concentration of plants) closely resembles the environment of a rainforest.  So I used our activity as a introduction to rainforests.
Want to know more about fun things to do outside with kids?
Want more One Part Sunshine?  Here's how: