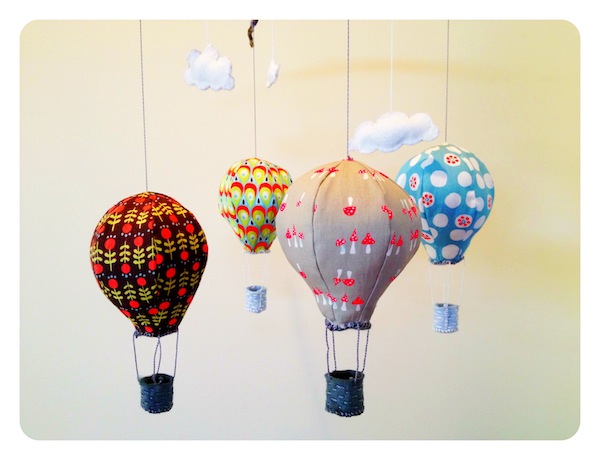 While pregnant, I scoured Google Images and Pinterest for inspiration for the perfect mobile.  I was sure of one thing – that I wanted to make it myself so that my little girl would have something to treasure and hand down to her children.
Since we co-sleep, I didn't see the purpose of trying to set up a nursery so the mobile didn't really have to fit a theme.  I just wanted something beautiful that inspired sweet dreams and happy feelings.  We live on the outskirts of the Blue Ridge Mountains and often see hot air balloons gliding calmly through the sky.  And so the seed had been planted.
Pinterest led me to this lovely tutorial by Craft Schmaft.  And since I am new to sewing, a tutorial was essential.  The directions were easy to follow.  The diagrams and pictures were clear.  It took me about 6 hours to put together the entire mobile.
I used organic cotton fabric from Monaluna.  Jennifer at Monaluna worked with me and let me create my own bundle of fat quarters.  I just love the patterns!  I filled the balloons with 100% cotton batting from Mountain Mist.  The baskets and clouds were created using 100% wool felt from Magic Cabin.  And I used cotton perle embroidery thread for the details.
I think it turned out great!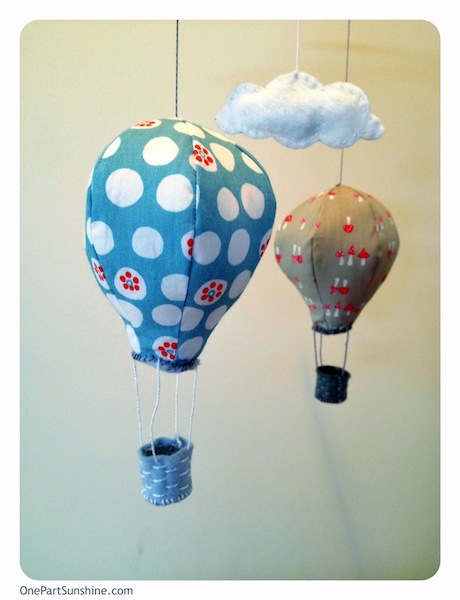 Want more One Part Sunshine?  Here's how: