One of the best parts of summer is being able to eat freshly-picked fruits and vegetables from my garden.  For some reason, the tomatoes taste sweeter, the cucumbers are crisper and the melons are juicier.  Maybe it's because they are so fresh or maybe I am just tasting the delicious reward of all of my hard work.
Preparing the garden was not easy (see my post on Preparing My Backyard Garden).  Maintaining it is even harder – especially since we are renting our property and weren't able to put in more-permanent gravel walkways or framed raised beds.  Between the weeds, the deer and the bugs, we have had our hands full.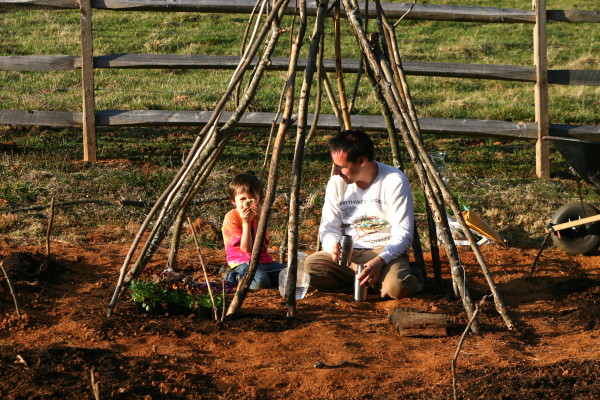 To deal with the weeds, we have chosen the time-consuming yet effective method of pulling them by hand.  Some of the walkways we covered with mulch (free from a friend who cut down a tree) and, in other areas, we put layers of newspapers covered with burlap.  The newspapers were salvaged from a local recycling center and the burlap came from coffee bags from a local coffee shop.
We were lucky for the first few weeks when the lettuce, chard and kale popped up.  We didn't see a single bug or animal.  But then the deer discovered the garden and, in one night, wiped everything out.  Most of it came back pretty quickly but we promptly surrounded the garden with steel posts and deer netting.  It has worked pretty well so far.
As far as the bugs go, we put Monster to work on those.  Bugs are his favorite things in the world, so he spends his time in the garden plucking potato bugs and grasshoppers from the plants.
I chose to make my own signs for labeling the different sections of the garden.  My husband cut small pieces of cedar out for me, and I used a wood-burning pen to write out the names of each plant.  I then nailed these signs onto sticks from the yard.  It was free and easy!
And the result of all of our hard work . . . bushels full of amazing produce!  So far, we have enjoyed lettuce, chard, kale, peas, beans, spinach, onions, gold potatoes, zucchini, yellow squash, carrots, broccoli, cauliflower, tomatoes, peppers, herbs, blueberries and strawberries.  We are still looking forward to watermelon, corn, pumpkins, sunflower seeds, and cantaloupe.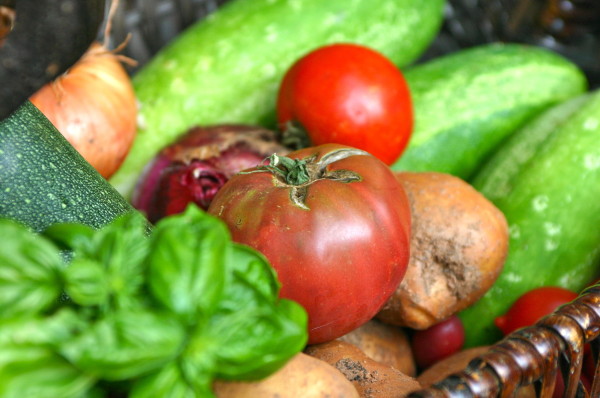 Recipe for Tomato Soup with Crostini Croutons
Soup Ingredients:
1 Tbsp butter
1 medium chopped onion
1 Tbsp minced garlic
1 tsp brown sugar
1/8 tsp sea salt
lots of freshly ground black pepper!
8 large basil leaves
4 sun-dried tomato halves (the kind that comes packed in oil with herbs)
about 2 pounds of tomatoes (chopped with skins removed)
2 cups vegetable broth
Crouton Ingredients:
1 baguette (white or wheat)
olive oil
sea salt
freshly ground black pepper
To make the soup, heat butter in a large saucepan over medium heat.  Add the chopped onion and minced garlic and cook until tender (about 5 minutes).  Add the brown sugar, salt, pepper, and basil leaves.  Cook for another 5 minutes.  Add the sundried and chopped tomatoes and the broth and bring to a boil.  Reduce heat and simmer for about 1 hour.  Remove from heat and use an immersion blender to blend until smooth.
To make the crostini croutons, while the soup is simmering, preheat the oven to 325 degrees.  Slice the baguette into 1/2 inch slices and spread out on a cookie sheet.  Brush the tops of the bread slices with olive oil and sprinkle with salt and pepper.  Bake until crisp (about 8 minutes).
Use the crostini croutons to dip in your soup or break into pieces on top of it.  Enjoy!