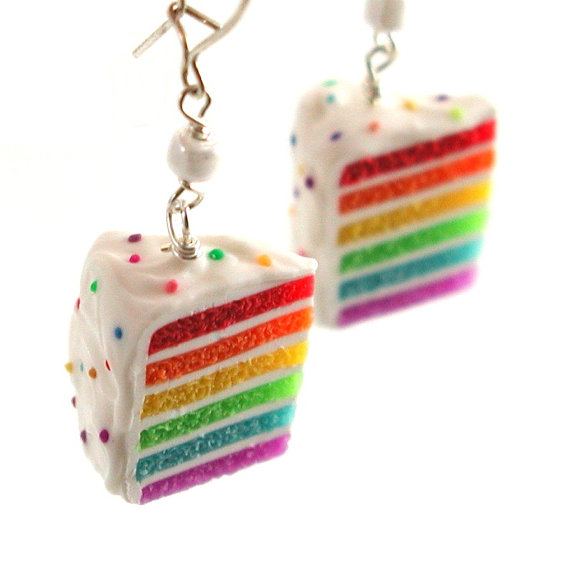 Photo from Inedible Jewelry on Etsy.com
The Charlottesville City Market opened earlier this month.  The reasons to buy local hit me full force as I browsed the local eggs, plants, honey, crafts and baked goods.
Supporting local farmers and artisans results in a stronger local economy.  You may be tempted to save a few dollars by purchasing cheap goods from abroad but what you save in money you lose in quality and safety.  In the long run, buying high-quality products saves you money because they last a lot longer.  Plus, you won't have to spend a ton of money on hospital bills when you find out you have lead poisoning.  By directing your money toward local sellers, you are helping to keep them in business so that they can continue making fantastic products.
When you buy local goods from local vendors, you are able to truly see where these goods come from.  And you can ask questions about what was used to make the goods.  The same can't be said when you buy things that were made in places like China.  Despite our country's attempts to regulate products coming from other countries, it is clear that we just are not able to completely prevent contamination from dangerous toxins.
Jewelry
Our post on The Dangers in Kids' Jewelry brings to light how dangerous cheap jewelry from China can be for children and adults.  This jewelry is often contaminated with toxins such as lead and cadmium which have been linked to cancer and hindered brain development.
The safest solution is to buy locally made jewelry from artisans dedicated to using safe materials.  There are literally hundreds of thousands of jewelry makers in this country and many of them choose safe, high-quality materials for their products.  Some even focus entirely on the use of recycled materials.  Etsy is a great resource for finding quality handmade jewelry.  The site has a great Shop Local feature which allows you to find goods near you.  A search for items in Charlottesville, VA, came up with 5,955 items!  You can also try shopping at local farmers markets and look for craft and jewelry shows near you.
One of my favorite local jewelry artisans is Inedible Jewelry.  All of their jewelry is handmade using phthalate-free polymer clay and either surgical steel or sterling silver (both from an American source).  Some of their earrings do contain lead crystal, so I would not recommend those for children.  They state that their jewelry is intended for the 12 and up crowd.  They even have a book out that teaches you how to make your own polymer clay jewelry – it is called The Polymer Clay Cookbook and can be found on Etsy and Amazon.  I just bought a rainbow cupcake necklace for my niece at their stand at the City Market, and I know she is going to love it!