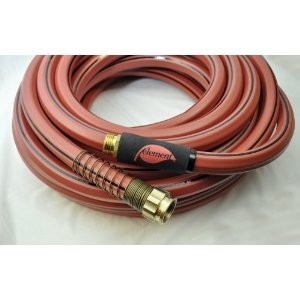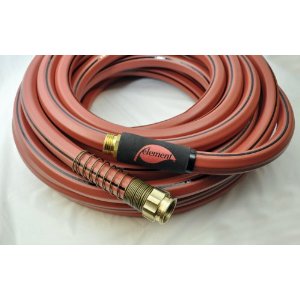 This post contains affiliate links. If you buy something after clicking one of these links, we receive a small commission (at no cost to you). Help support One Part Sunshine and our mission to grow green kids by purchasing all of your Amazon products through our affiliate links!
* This post was updated in August 2020
I was strolling through Lowe's, checking out their gardening supplies, looking for a new spray nozzle for my garden hose.  I picked one up to examine it more closely and noticed a warning with words like "birth defects" and "cancer."  Being 27 weeks pregnant, I almost threw the thing across the store.  It turns out that this seemingly harmless nozzle was full of lead.  And it wasn't the only one.  Every single nozzle in the entire gardening department had the same lead warning.  As did the hoses and soakers and brass fittings and who knows what else.  I was shocked.  I have spent tons of money and time putting together the perfect organic garden and here I am watering my plants with lead, phthalates and BPA.
Here is the prop-65 warning:
"WARNING: This hose contains chemical(s), including lead, known to the State of California to cause cancer, birth defects and other reproductive harm. Do not drink water from this hose. Wash hands after use."
I had heard the warnings about not drinking out of a hose but I assumed that this was due to the presence of bacteria and dirt.  And, of course, like most people my age, I drank out of the hose all the time when I was a kid.
And it's not just lead that is contaminating our garden hoses.  A study conducted by HealthyStuff.org found lead, phthalates and BPA at levels exceeding Consumer Product Safety Commission standards for other products.  They also found PVC, cadmium, brominated flame retardants and antimony.  These toxins have been linked to everything from birth defects and liver toxicity to cancer.
And it's not just garden hoses that you have to worry about.  The HealthyStuff.org study also found these toxins in garden gloves, kneeling pads, garden tools, brass hose fittings, and plastic hose materials.
So what can you do about it?
Personally, I went out and bought a lead-free farm garden hose and this hose made specifically for drinking water that stated it was lead free, BPA free and phthalate free.  I bought gardening gloves that were made from hemp, organic cotton and leather.  I skip the kneeling pads (and just wear thick pants instead).
HealthyStuff.org also recommends letting your hose runs for a few seconds before using to flush out contaminants, keeping your hose in the shade to minimize leaching, and avoiding lead, PVC and brass.
The real challenge has been trying to find drinking water safe hose nozzles. I tried this nozzle from Swan Miracle Gro. It states that it is lead-free, zinc-free and drinking water safe. I ordered two and they worked great for a while but eventually both started leaking. My conclusion is that, in order to be lead free, the nozzles must be made of plastic but this plastic degrades quickly when left outside. Since I have not been able to find anything better,  I am resigned to the fact that these nozzles will have to be replaced every year.
At a readers' suggestion, I found a brass nozzle on Amazon that claimed to be lead free, but after further research, I discovered that it was only 99.9% lead free and that brass nozzles always contain some amount of lead.
Want more One Part Sunshine?  Here's how:
SaveSaveSaveSaveSaveSaveSaveSaveSaveSaveSaveSaveSaveSave
SaveSave
SaveSave