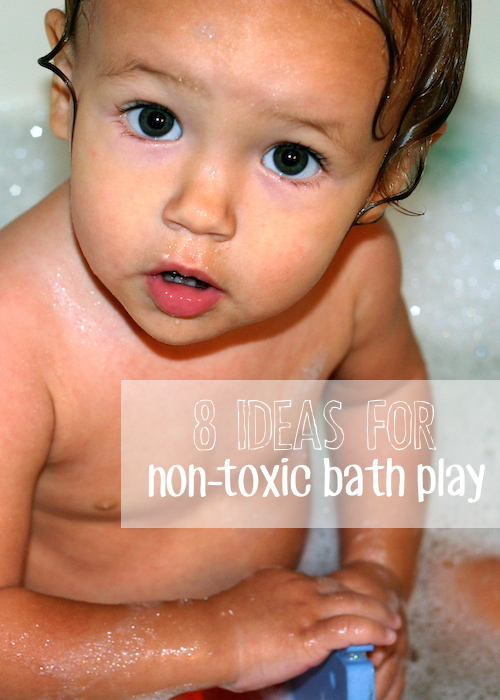 This post contains affiliate links. If you buy something after clicking one of these links, we receive a small commission (at no cost to you). Help support One Part Sunshine and our mission to reduce toxins in your child's environment by purchasing all of your Amazon products through our affiliate links!
Choosing bath toys for my kids has always been a challenge for me. I prefer that my kids' toys are safe, non-toxic and well-made – and this usually means plastic-free. But how do you find bath toys that are plastic-free???
It isn't easy to find bath toys that are made with anything other than plastic. Plastic toys have toxic elements in them such as BPA and phthalates which have been linked to things like cancer and hormone disruptions.
And most plastic bath toys seem to have those little holes in them that just invite mold to grow (I'm still searching for a way to clean them that doesn't involve bleach). These holes are put there so that bath toys will return to their original shape after being squeezed, but they also create a haven for mold, mildew, fecal matter and other nasty stuff.
So I have compiled a list of 8 ideas for non-toxic bath play:
1. Pots and pans
My kids love to play with stuff from the kitchen in the bath tub. I just hand them a small stainless steel pot, a spoon, a whisk and a sponge. They like to make pretend recipes and then "wash" the dishes. We also have a set of small play pots and pans from Ikea but unfortunately they are starting to get a bit rusty.
2. Bubbles
Bubbles are a fun and clean way to enjoy bath time. California Baby has a great bubble bath that is free from harsh chemicals, and each bottle even includes a bubble wand.
3. Food coloring
My son loves to play with food coloring in the bath. I usually fill up a few small bowls with different colored water. I give him some droppers to go with it and he creates colorful concoctions. I have even taped sheets of paper to the wall so he can squirt the colored water on the paper to create works of art. You can also buy products made specifically for coloring bath water, such as Color My Bath's Bath Tablets which is food-safe and Made in America. A German company, Tinti, makes bath color tablets using natural dyes from things like elderberries and gardenia blossoms.
4. Bathtub Paint
If your child leans toward the artistic side, you can try making bathtub paint. The Artful Parent has this recipe for bathtub paint. Chalk in My Pocket has a great tutorial for making bathtub puffy paint. You could also just mix food coloring with shaving cream if you can find a shaving cream made from natural ingredients.
5. Wooden Bath Toys
Wood in the bath? Why not?! Some wood such as cedar is great for using outside or in other places where it will come in contact with water. Just make sure you allow it to dry thoroughly between uses (which is true for all of your bath toys). Glueckskaefer makes lovely little wooden boats and canoes for bath play. These boats are made from natural wood and non-toxic dyes and is free from varnish. Toy Boat Works makes hand carved wooden boats painted with non-toxic paint and non-toxic coating. Mama Made Them handcrafts beautiful, durable wooden bath toys in fun ocean creature shapes. Or this rubberwood toy from Plan Toys:
6. Natural Rubber Toys
A great alternative to plastic bath toys are those made of natural rubber. Pretty much any natural rubber toy will work in the bath but several companies make toys specifically for water play.
Hevea toys are 100% natural rubber that comes from the Malaysian rubber tree. And they have no holes for mold and mildew to grow in.
The popular Sophie the Giraffe natural rubber teething toy now comes in a bath toy! Vulli has created a Sophie Bath Buddy. It is a squirting toy so it has a hole in it – just make sure to squeeze all of the water out after bath time.
LANCO also makes natural latex rubber bath toys. These toys are BPA-, phthalate- and PVC-free and hand-painted with natural paints. Plus they squeak when squeezed!
7. Non-Slip Bath Mats
Don't forget the bath mats. Most conventional bath mats are full of toxic materials. Fortunately, Kikkerland makes a natural rubber bath mat with suction cup grippers, so your child can play safely in the bath without slipping.
8. Organic Cotton Bath Toys
Another great option for bath play is organic cotton. Cleaning organic cotton bath toys is as easy as just throwing the toys in when you wash the towels.
I would love to hear more of your ideas for non-toxic bath play!
Want more One Part Sunshine?  Here's how: