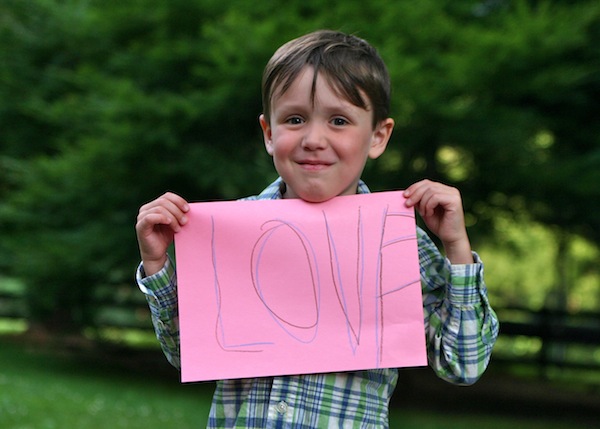 In the spirit of new year resolutions and inspired by the tragedy at Sandy Hook, I am resolving to finally commit to doing more good deeds for the earth and for my community.  I have been looking for ways to teach my 6 year old about helping others so that he can develop a stronger sense of responsibility and empathy.  Every night, I tell myself that tomorrow will be the day that we bake cookies for some firefighters or bring coloring books to kids in the hospital.  And then life gets in the way and I postpone our charitable work for another day.
So now I am making this commitment to all of you.  But I'm going to take baby steps (especially since I just had a baby).  My psychologist husband will tell you that the best way to stick with something is to create manageable goals.  So my goal is to do one good deed each week – that's 52 charitable acts.  Some of them will be pretty big but most will be something simple.  The idea is to teach my children that even small gestures can have important impacts.
I have compiled a list of some ideas that I thought I would share with all of you so that you might be inspired to do your own good deeds:
Leave a bouquet at a hospital
Let someone go in front of you in line
Donate coloring books and crayons to the pediatric wing
Hold the door
Donate toiletries to a shelter
Let cars merge
Donate diapers – diaperbanknetwork.org
Send a thank you note to the police station
Pay for a soldier's meal (or anybody's meal for that matter)
Pick up trash at a park
Donate to dressforsuccess.org
Bake cookies or bread for a group home or fire station
Make bird feeders
Give up the parking space
Donate cell phones to The National Coalition Against Domestic Violence
Leave a comment card
Load extra change into a vending machine
Send a card
Donate books to booksforkids.org
Dedicate a song to someone
Leave a treat for an elderly neighbor
Prepare and take a meal to someone
Pay the toll for the car behind you
Take baked goods to your librarians, fire fighters, etc.
Go to libraries at schools and offer to read with kids
Find elder care places that are okay with bringing pets in to share for a little bit
See to neighbors' (within several streets) needs, like taking trash to the curb, a hot meal for older residents, mowing yard, washing their car, asking if there is anything around the place that they would like fixed, chatting with them
Bake/cook and then have the child take a basket of goodies from house to house (of people they know), on foot, to offer goodies
Look for other ideas at generationon.org
Stay tuned for the good deed this week!