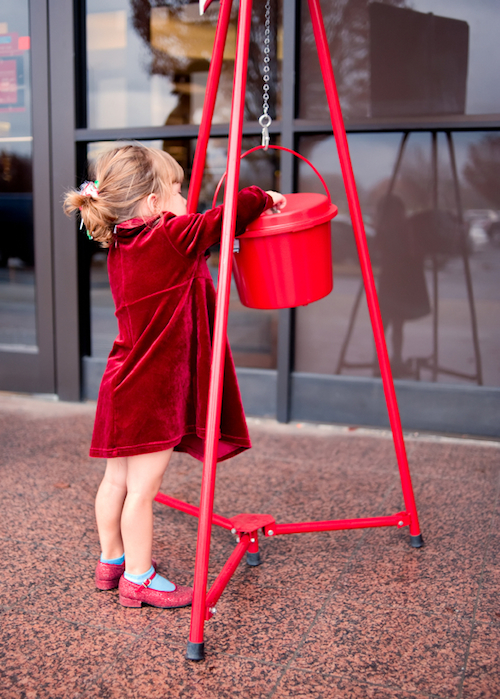 The holiday season is one of the reasons I decided to try to accomplish 52 good deeds in one year. There is no doubt that the opportunities to give back during the months of November and December are plentiful, between the toy drives and charity tree sales. But many people (myself included) forget about giving back during the rest of the year.
An excellent solution is to give gifts that give back throughout the rest of the year, like gift cards from Kiva or a gift from a SoKind Registry. Or make environmentally-friendly choices like recycling your tree that will have long-lasting impacts.
Here are some more ways to give back during the holidays!
1. Give more than stuff this holiday season – The SoKind Registry enables people to give the gift of time or to donate to meaningful charities instead of buying yet another product from a store. Users can create registries requesting things like babysitting, music lessons or donations to their favorite charity. Another great service is Unstuff Gifts. This website has tons of great gift ideas that don't involve giving more stuff – things like cooking classes or woodworking workshops. These services are also kind to the environment by keeping more stuff out of landfills. Inspired by this site, my son has decided he would much prefer a fossil- collecting trip and an art class over a bunch of toys.
2. Pleygo Holiday Brick Drive – Pleygo is collecting used and new Lego bricks and sets to be sent out to hospitals and sites that support kids with Autism Spectrum a Disorder. Unfortunately this event ended December 13th but I'm sure there will be more opportunities in the future. My son is gathering up all of the Legos that he doesn't need anymore and is really excited about sending them to other kids.
3. Holiday Cards for nursing home residents – I love this idea from The Homeschool Classroom. My son and two of his friends set to work creating colorful Christmas cards that we then dropped off at a local nursing home to be distributed to those who need them most. Many of the people there are either far from their families during the holidays or don't have any family at all. This idea hopefully brought a little bit of cheer to some of the residents.
4. Babysitting for other parents – Another great idea from The Homeschool Classroom. While I have not implemented this one yet, I love the idea of offering a few of my fellow parents the gift of time to get some holiday shopping done (at locally-owned businesses of course)! I plan to set up a fun holiday activity like decorating salt dough ornaments to keep the kids entertained while their parents shop.
5. Donate toys and clothes to the Salvation Army – This is an activity that we do every year. During the year, I collect toys and children's clothing that I find at great prices. When December rolls around, we donate them all to the Salvation Army Angel Tree drive. You can also donate your time by working the Angel Tree table or by being a bell ringer.
6. Library Book Drive – Many libraries, mine included, collect books for needy children during the holidays. My son and I went through his stash of unread children's books (mostly books that were gifted to us that my son didn't really take a liking to) and donated them to the book drive.
7. Recycle your tree (and buy it from a local farm) – Every year, our community collects Christmas trees to be turned into mulch. And then offers the mulch for free! Find a treecycling program near you using Earth 911's guide. Don't forget to buy a live tree from a local farm! Find one near you at LocalHarvest.org.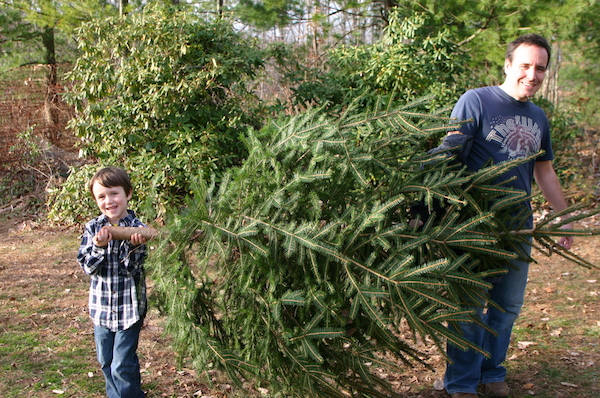 8. Bring a meal to an elderly neighbor – Do you have an elderly neighbor who is alone during the holidays? Invite them over to share a meal with you. Or bring them a homemade meal. Or even bring them the ingredients for a holiday meal.
9. Shop at locally-owned businesses – One of the easiest ways you can give back to your community is to do your holiday shopping at a locally-owned business. Even better, choose gifts that are hand-crafted by local artisans. If you can't find anything locally-made, at least buy American-made.
10. Donate to a charity in lieu of buying a gift – This option is not only people-friendly but earth-friendly too. Gift clean water to a family in need through The Water Project. Purchase donation gift cards through Kiva that the recipient can use toward the micro-financing project of their choice. Donate seeds and livestock through Heifer International.
I would love to hear more ways that your family is giving back this holiday season!
Want more One Part Sunshine?  Here's how: